Lyft submitted its registration for initial public offering (IPO) with the Securities and Exchange Commission (SEC) on Friday. The company beat its larger competitor Uber in the race to go public.
In its Form S-1 filing, Lyft stated that it will be listing its stock on the NASDAQ under the ticker "LYFT." It is seeking to raise as much as $100 million in its IPO.
The company intends to use the need proceeds from its IPO for general corporate purposes including working capital, operating expenses and capital expenditures. It may also use a part of the net proceeds to acquire or invest in businesses, products, services, or technologies.
Prior its public offering, Lyft wants to give one-time cash bonuses to its drivers, who made significant contributions to its success.  Drivers in good standing who completed at least 20,000 rides on its ride-sharing platform as of February 25 this year will receive $10,000.
Drivers who completed at least 10,000 rides or those serving on or have served on the company's Driver Advisory Council as of February 25 this year will get $1,000.
Lyft plans to give the bonuses to eligible drivers on or about March 19, 2019. They have the option to use their bonuses to purchase shares in its directed share program.
Lyft financial performance
Lyft generates most of its revenue from the service fees and commissions it collects from drivers using its ride-sharing marketplace.
The company disclosed that its revenue in 2018 was $2.2 billion, an increase of 103% from $1.1 billion in 2017 and up 209% from $343.3 million in 2016.
Its bookings were $8.1 billion in 2018, up 76% from $4.6 billion in 2017 and 76% from $1.9 billion in 2016.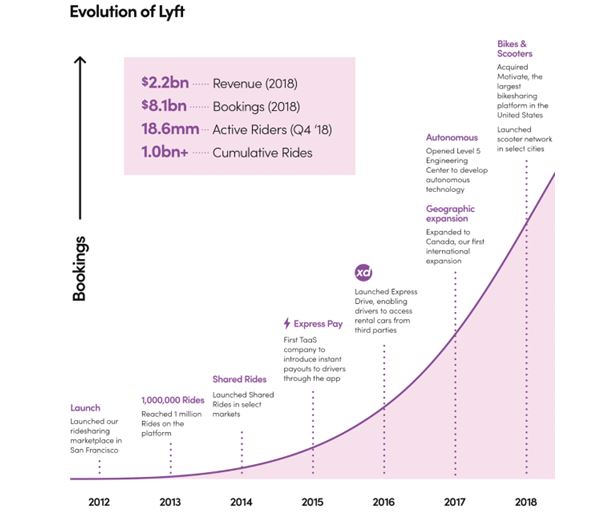 Lyft stated that its net losses were $911.3 million in 2018, $688.3 million in 2017 and $682.8 million in 2016.
"We have incurred net losses each year since our inception and we may not be able to achieve or maintain profitability in the future," stated the company under its list of risk factors.
Brand awareness and long-term growth indicator
Since 2016, the company's Active Riders, a key indicator of its brand awareness and long-term revenue growth potential, grew quarter-over-quarter. It Active Riders were rose from $3.5 million in the first quarter of 2016 to $18.6 million in the fourth quarter last year.

According to Lyft its revenue per Active Rider was $36.04 in the fourth quarter of 2018. Its lowest revenue per Active Rider was $14.11 in the second quarter of 2016. The company noted that the significant growth rate was driven by its community's awareness to its brand and values.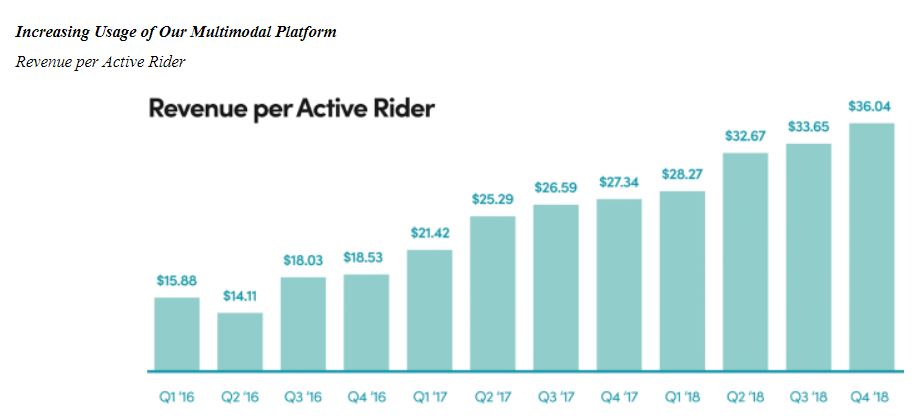 Riders view Lyft as a friendlier company than Uber, which suffered a series of scandals including allegations of data breach cover-up and sexual harassment over the past several years.
Its drivers provided a total of $178.4 million rides in the fourth quarter of 2018, up from $29 million in the first quarter of 2016.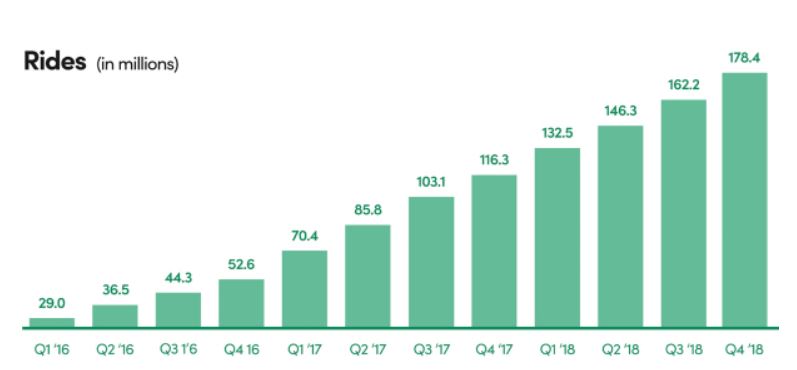 "The number of Rides represents the level of usage of our platform. We expect the number of Rides to continue increasing as the number of Active Riders increases," according to the company.