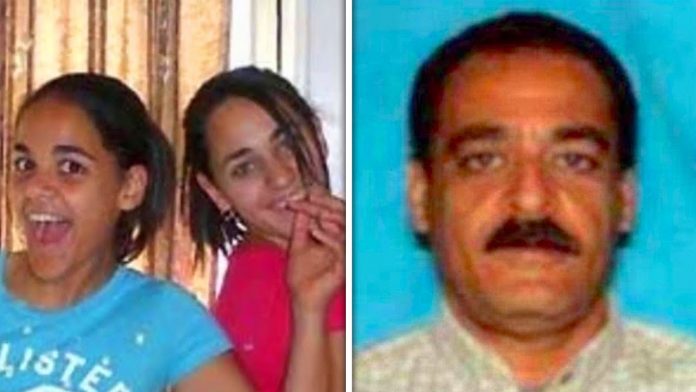 Yaser Said, 65, is on trial for murdering his daughters in honor killings on New Year's Day in 2008. And he hid out for 12 years while on the FBI's Most Wanted List.
Said, an Egyptian national was eventually arrested in the small town of Justin, Texas in 2020.  
Yassein Said, the accused brother, and his son, Islam Said were also arrested. And have since been convicted of helping the fugitive to hide from authorities.
He is accused of shooting and killing both his daughters, Sarah, 17, and Amina, 18.
The trial began Monday in a Dallas courtroom.  And the details of the murders are horrific.
In Tuesday's opening statements prosecutor, Lauren Black accused the father of murdering both his daughters because they weren't following his Islamic faith.
"He controlled what they did, who they talked to, who they could be friends with, and who they could date," said prosecutor Lauren Black.
Horrific Honor killings 
Said was upset because his teenagers were dating American boys. The girls' mother, Patricia Owens Said, family members, and their boyfriends have testified.  And the girls' own words in their emails and 911 calls are in evidence.
On Dec. 21, 2007, Amina sent an email to her history teacher claiming her father wanted her to be in an arranged marriage. And she refused. Ten days later the girl's bodies were found. 
"He has simply made our lives a nightmare," Amina recounted in her email. "He's one man, not God."
"We don't want the police involved until we are ready," Amina said. 
"I am so scared right now. It's crazy. Ok, well, as you know, we're not allowed to date, and my dad is arranging my marriage. My dad said I cannot put it off anymore, and I have to get married this year."
A family friend Ruth Trotter said, "He followed them everywhere they went and recorded their every move." 
Amina also explained to her teacher that Said threatened her younger sister. 
There was testimony that Yaser Said held each girl at gunpoint at different points in December.
Father threatened daughters
When her father forced her to go home. Her boyfriend was afraid for her. 
"She said that I would never see her again," Ruiz stated. "This was the last time I would ever see her. Then she walked out."
"She knew she was going to die," he said.
Investigators allege Said took his daughters for a ride in a borrowed cab on New Year's Day He claimed they were going to get dinner. Instead, he drove them to the Omni Hotel near Irving. And shot them both multiple times in the parking lot.
Said is pleading not guilty. He has denied killing his daughters.
But after being shot 9 times Sarah managed to call 911 and implicated her father in her murder.
Prosecutors played the 4-minute 911 call.
"Help, my dad shot me," Sarah told the dispatcher. "I'm dying. I'm dying. I'm dying."
"Oh my God, not again," Sarah continued in the call. "Stop it. Stop it."
Prosecutors do not seek the death penalty. If convicted, he will automatically serve life in prison without parole.