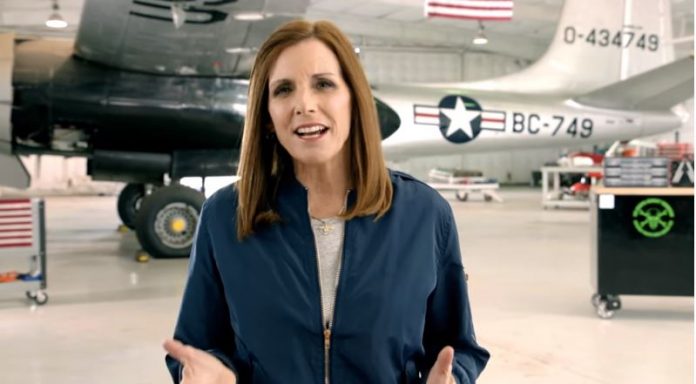 U.S. Rep. Martha McSally is enjoying a huge lead against her contenders in the Arizona GOP primary for the U.S. Senate.
McSally, former state Sen. Kelli Ward and former Maricopa County Sheriff Joe Arpaio are competing to replace retiring U.S. Sen. Jeff Flake.
According to the latest poll from OH Predictive Insights, McSally has a 20-point lead over Ward. Her advantage against Arpaio is much bigger — 34 points.
The poll showed that 47 percent of Arizona voters support McSally, while 27 percent favor Ward. Only 13 percent say they will vote for Arpaio and 12 percent are still undecided.
In a statement, Mike Noble, managing partner and chief pollster at OH Predictive Insights, said, "Our latest poll comes amid infighting between the two conservative challengers and a large outside money assault on Kelli Ward. With the all-important undecided voters breaking to McSally, this contest is all but over unless President Trump weighs in on the contest — yesterday."
Many "Undecided Voters Shifted to McSally"
McSally gained 12 percent from the poll conducted by OH Predictive Insights last month. The organization noted that a significant number of undecided voters shifted to her.
The number of undecided voters in Maricopa County dropped from from 29 percent to 14 percent from the last poll. McSally now holds a majority (51 percent) of voter support in Maricopa County.
She gained a large share of the support of undecided voters, which provided a big boost to her overall performance.
Undecided voters made the decision to support the U.S. congresswoman following ads attacking Ward and Arpaio's strange interview with Sacha Baron Cohen.
Noah Rudnick, data analyst at OH Predictive Insights, commented, "While the more conservative candidates' totals combined near McSally's 47 percent, the fact that they remain split gives McSally a huge lead entering the final stretch."