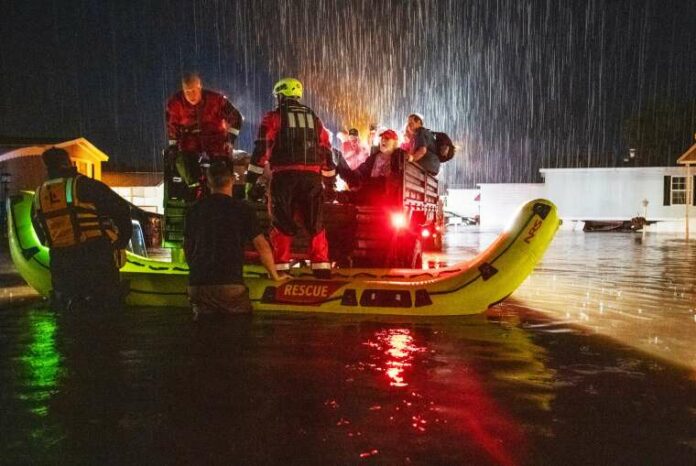 The evening of Monday was marred by torrential rains, leading to perilous flash floods in central Massachusetts. As a consequence, emergency states were announced in multiple towns, with officials urging evacuations. Northeastern Worcester County was particularly hard-hit, receiving between six and nine inches of rain. This torrential downpour prompted a flash flood warning that lasted until Tuesday morning, as stated by the National Weather Service.
Leominster at the Epicenter of Flooding
Leominster, located approximately 40 miles northwest of Boston, faced the brunt of the Massachusetts Flash Flooding. The urgency of the situation became palpable when forecasters beseeched inhabitants to immediately seek elevated terrains. This wasn't just a concern for Leominster, but also neighboring towns like Fitchburg, Lunenberg, and Sterling. They too were under the threat of potential flash flooding.
By Monday's twilight, Leominster's conditions had drastically deteriorated. The severity of the flooding was evident when both Leominster and North Attleborough each declared states of emergency. On a similar note, the Leominster city website bulletin stated that schools would remain shut on Tuesday due to the damages from flooding. In a bid to provide relief, one elementary school transformed into a makeshift shelter. Furthermore, the floods caused alterations in the paths of commuter rail lines.
Massachusetts Flash Flooding : Rescues and Immediate Actions
Neighboring town Hubbardston exhibited their support by dispatching a fire engine to aid in rescuing the trapped individuals in Leominster. When delving into the immediacy of the situation, Mayor Dean J. Mazzarella's tour of Leominster, showcased through a Facebook livestream, highlighted the extensive damages. Streets submerged under water, homes wrecked, and at one point, he urged residents against venturing out, likening the scene to a spectacle of destruction.