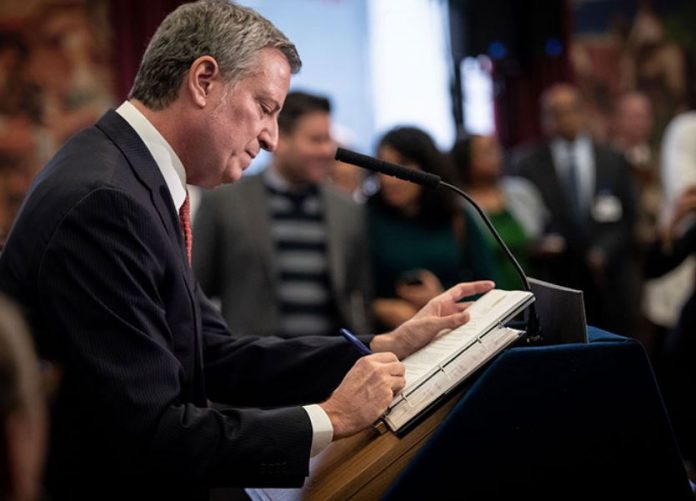 Mayor Bill de Blasio signed an Executive Order expanding access to New York City's health care. The order is part of his commitment to guarantee health care for all in the city.
The Mayor's office estimated that around 600,000 New Yorkers have no health insurance. Around 50 percent of those people are eligible to enroll in a health insurance plan.
Under the Executive Order, de Blasio ordered city agencies to provide New Yorkers with information regarding health insurance options and to encourage them to enroll in a plan.
The Mayor's Public Engagement Unit (PEU) is responsible for coordinating the information dissemination regarding health insurance and enrollment assistance to uninsured New Yorkers. City agencies are required to cooperate with the PEU's coordination efforts.
In New York City, the deadline for open enrollment in a health insurance plan is on January 31.
Mayor de Blasio says "health care is a human right"
In a statement, de Blasio said his administration will continue its efforts to ensure that every New Yorker has health insurance. The mayor believes that "health care is a human right."
"We're now asking all City agencies to help us achieve this goal by sharing information, connecting people to our GetCovered team and ultimately help all New Yorkers access affordable coverage," said de Blasio.
On the other hand, Dr. Herminia Palacio, the Deputy Mayor for Health and Human Services, commented, "While our City has done a lot to engage hard-to-reach New Yorkers who are eligible but uninsured, this Executive Order will leverage the expansive reach of all our City agencies to get us even closer to ensuring everyone has the information and resources to receive health insurance and get connected to quality care."
Currently, eight million New Yorkers have quality health insurance due to the Affordable Care Act (ACA). Since 2013, the uninsured rate in New York City declined by almost 50 percent.
New Yorkers ineligible for health insurance can sign up to NYC Care
Starting in summer 2019, New Yorkers not qualified for insurance coverage will be able to sign to a new program called NYC Care.
Earlier this month, launched NYC Care to guarantee health care for every New Yorker including those who are living in the country illegally. The program connects them to quality and affordable health care and ensures them access to a primary care physician at one of NYC Health + Hospitals' 70 plus facilities.