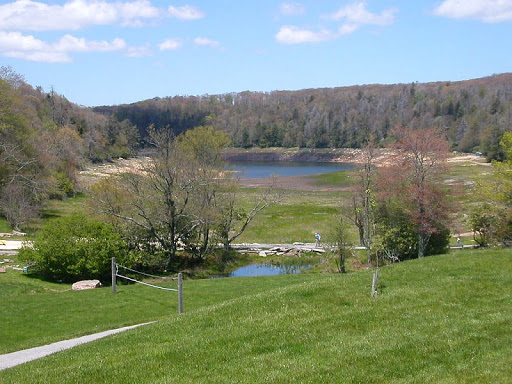 In the mountains of Giles County, in Pembroke, Virginia a famous and mysterious lake that completely dried up 12 years ago is coming back to life.
This summer, the waters started rising again in Mountain Lake, which dried out in 2008. By the end of August 2020, the waters rose to about one-third full. The water levels are still seeing a slight increase in November. 
Although there are lakes with dramatic changes in water levels, no other lake in the world behaves exactly like Mountain Lake.
Mountain Lake Lodge 
In the shadow of the Appalachian Mountains sits the Mountain Lake Lodge. The sprawling updated inn is located in Pembroke, VA. It is an iconic and charming lodge.
This was the location where the 1987 movie "Dirty Dancing" was filmed. It was a high grossing film. It starred Patrick Swayze (Johnny) and Jennifer Grey (Baby Houseman). Tourists still flock to the resort to enjoy various landmarks featured in the film. In 2020, the lodge had record numbers of visitors.
A  disappearing lake phenomenon
This lake is unique. The water empties out and then refills every hundred years or so.  It disappears completely every 400 years. The strange occurrence was first recorded between 1751 and 1768. 
Scientists and geologists come from everywhere to study the disappearing lake "phenomenon." But the natural cycle is complicated and scientists have varying theories.
Researchers have long confirmed that the lake is 6,000 years old and they are continually working on a myriad of sedimentary tests.
The lake has always had big fluctuations in its water levels and volume. The water continually drains, through its porous bottom. But water levels usually rise again when there is an increase in both rain and underground water flow.
The Conservancy
The lake is surrounded by 2,600 acres which make up the Mountain Lake Conservancy.
The Conservancy was established in 1989.  It is believed that more diverse populations of animal and plant species can be found per square mile here than anyplace else on earth.
The conservancy sponsors research and many educational and recreational activities. These programs are an integrated effort to protect Virginia's native animal and plant life ecosystems. The emphasis is on nature. They also study the mystery of Mountain Lake. 
—————————————-
Have a story you want USA Herald to cover? Submit a tip here and if we think it's newsworthy, we'll follow up on it.
Want to contribute a story? We also accept article submissions – check out our writer's guidelines here.