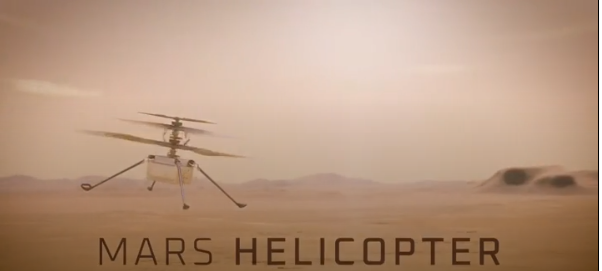 NASA's Mars Helicopter, called Ingenuity, is hitching a ride to the Red Planet with the agency's Mars 2020 Perseverance rover, which lifted off on an Atlas V rocket from Florida's Cape Canaveral Air Force Station on July 30.
Ingenuity is the first-ever helicopter designed to fly on another planet. While Project Ingenuity is an experimental mission, its prime objective is to test powered flight on Mars. If the mission succeeds it will shape the future of Mars exploration. 
Securely tucked underneath the rover, for the next six months, Ingenuity will travel to Mars. The mission is scheduled to land on Mars on Feb. 18, 2021. It will be a few months later that the rotorcraft will attempt the first-ever flight through another planet's atmosphere. 
Although the development of the rover began 10 years ago, engineers at NASA's Jet Propulsion Laboratory in Pasadena began working on the design for a lightweight aircraft that could fly on Mars in 2014. Testing of a succession of models continued up through January 2019, when the design passed its final tests.
In a quote that has since gone viral, Håvard Grip, Ingenuity's chief pilot at NASA's Jet Propulsion Laboratory in Southern California described the development efforts, "The Wright Brothers showed that powered flight in Earth's atmosphere was possible, using an experimental aircraft. With Ingenuity, we're trying to do the same for Mars."
"We as human beings have never flown or rotorcraft outside of our own Earth's atmosphere, so this will actually be a very much a Wright Brothers moment, except on another planet," Mimi Aung, NASA's Ingenuity Mars Helicopter project manager, said in a news conference on last Tuesday.
While NASA and other space agencies around the world have sent landers, orbiters, and rovers to the Red Planet, no one has attempted to fly an aircraft on another planet before. The atmosphere on Mars poses unique challenges to powered flight. 
"Flying a rotorcraft at Mars is very difficult. First and foremost, the atmosphere there is very thin, about 1% compared to the Earth's atmospheric density here," Aung said. "To build a vehicle that can fly at Mars, it has to be very light and be able to spin very fast."
Ingenuity only weighs about 4 lbs. (1.8 kilograms) and has two counter-rotating blades that measure 4 feet (1.2 meters) long. The blades are designed to spin at a rate of about 2,400 revolutions per minute. To test the helicopter, NASA simulated the Martian atmosphere, as closely as possible in a testing chamber at the agency's Jet Propulsion Lab in Pasadena, California.
For robotic missions, helicopters could scout the Martian terrain and help plan driving routes for the Perseverance rover. With that same aerial view, rotorcraft could also be used to study the planet's geology from a different perspective, and they could even help astronauts explore Mars someday, according to NASA.
"This Mars helicopter Ingenuity could lead to the opening up of a whole new way to explore space" and to take "exploration missions to the aerial dimension," Aung said.
Vaneeza Rupani, a highschool student from Northport, Alabama, submitted the name Ingenuity for the Mars 2020 rover. NASA officials appreciated the submission, given how much creative thinking the team employed to get the mission off the ground. 
"The ingenuity and brilliance of people working hard to overcome the challenges of interplanetary travel are what allow us all to experience the wonders of space exploration," Rupani wrote. "Ingenuity is what allows people to accomplish amazing things."
Live Updates for the Ingenuity mission: NASA's Mars rover mission in real-time.
————————————————–
Have a story you want USA Herald to cover? Submit a tip here and if we think it's newsworthy, we'll follow up on it.
Want guaranteed coverage? We also offer contract journalism here.  Just be sure you're comfortable giving up editorial control, because our journalists are dogged and will follow the story through to it's conclusion. The story will be published to our exacting standards, without regard for your preferred slant.
Want to contribute a story? We also accept article submissions — check out our writer's guidelines here.