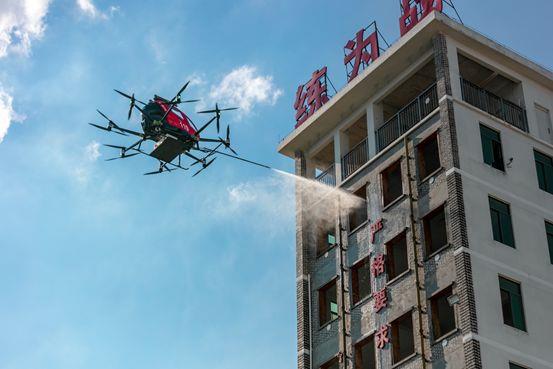 On Friday, China-based EHang, a passenger drone company, has announced the launch of their innovative EHang 216F, a fire-fighting drone specifically designed to fight high-rise fires.
Last week, the company hosted a live event demonstrating the 216F putting out a fire. At altitudes of up to 600 feet, it can carry up to 150 liters, about 40 gallons, of firefighting foam and 6 fire extinguisher bombs in one trip.
Using a visible-light zoom camera to quickly identify the fire location, the 216F "hovers precisely in position and uses a laser aiming device to fire (in succession) a window breaker, the fire extinguishing 'bombs' and then a full-range spray of firefighting foam," according to an Ehang press release. "Multiple 216Fs can be deployed to rapidly extinguish the fire."
EHang went public last year and has announced first-quarter results with year-over-year revenue results.  
"We are pleased to introduce the EHang 216F AAV aerial firefighting solution, which solves difficult challenges in high-rise firefighting," EHang's Founder, Chair, and CEO Huazhi Hu said in a statement. "The high-rise fire use case highlights the practical application of our passenger-grade AAV platform to different smart city management needs. The potential of our intelligent AAV technology platform is boundless. We will explore and develop more aerial solutions and use cases to empower smart cities."
From air taxis to firefighting drones AAV's can do it all
Since January when EHang conducted the first FAA-approved trial flight in North Carolina, the autonomous aerial vehicle (AAV) technology platform company has been broadening its applications.
They have received certification from the Chinese government for cargo delivery trials. EHang is outfitting the taxi drone that was flight-tested at the North Carolina Transportation Summit, into the firefighting drone.
A new version of the EHang 216 as a firefighting drone is described by Huazhi Hu as "the world's first large-payload intelligent aerial firefighting solution."  
EHang believes they can translate its platform from the future application of passenger transport and urban air mobility for today's critical applications like emergency services, search and rescue, and cargo transport.
Drone taxis may take a while to go mainstream, but firefighting drones offer immediate solutions.
"Firefighting and rescue is a race against death. By taking advantage of the rapid response and centralized management of the EHang AAV platform, we can greatly improve the effectiveness of our efforts," said Weiqiang Chen, the head of a fire station in Yunfu. "EHang's intelligent aerial firefighting solution can effectively solve difficult problems in fighting high-rise fires. This complements existing firefighting systems and will improve society's ability to respond to emergencies."
"EHang 216Fs are expected to be deployed in urban fire stations to assist in firefighting within a 5km radius," explains the EHang release. "EHang's autopilot and centralized management technologies enable a fleet of EHang 216Fs to be remotely dispatched for a first response even before the firefighters arrive. This significantly shortens response time and can reduce casualties."
On Friday, July 31, EHang Holdings Ltd. filed form 6-K (Report of Foreign Issuer) with the United States Securities and Exchange Commission indicating that they will start construction immediately in Yunfu, of their new drone manufacturing plant.
————————————————–
Have a story you want USA Herald to cover? Submit a tip here and if we think it's newsworthy, we'll follow up on it.
Want guaranteed coverage? We also offer contract journalism here.  Just be sure you're comfortable giving up editorial control, because our journalists are dogged and will follow the story through to it's conclusion. The story will be published to our exacting standards, without regard for your preferred slant.
Want to contribute a story? We also accept article submissions — check out our writer's guidelines here.