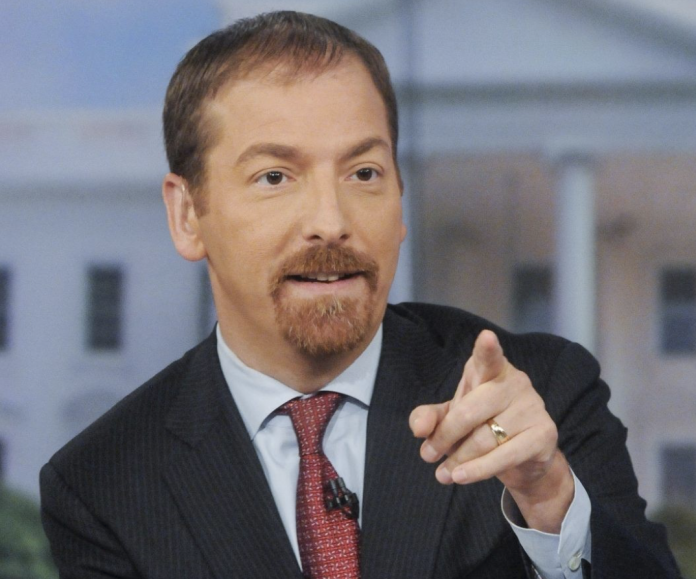 On Wednesday, "Meet The Press" host Chuck Todd predicted that Democrats "could" regain control of the House of Representatives, according to The Hill.
An Overview of Todd's Statements
Todd sat down for an interview with the "Today Show" on Wednesday. He speculated about the potential "size" of Democratic midterm victories.
"This is why Democrats are now heavy favorites to take control of the House," Todd said. "I think the question is, really, the size. Is it 30 seats, 40 seats, 50 seats? They have a night like this, like they did in Ohio, they could win 40 to 60 seats."
More on Forthcoming Midterm Elections
Republicans and Democrats are both campaigning to emerge as the victors of the upcoming midterm elections. Despite Todd's statements, many Republicans feel confident about their chances of winning in November.
President Donald Trump himself has congratulated various GOP candidates and lauded the Republican Party's recent success on Twitter. Republicans have won eight out of 10 special House elections since Trump took office.
The Republicans have now won 8 out of 9 House Seats, yet if you listen to the Fake News Media you would think we are being clobbered. Why can't they play it straight, so unfair to the Republican Party and in particular, your favorite President!

— Donald J. Trump (@realDonaldTrump) August 8, 2018
5 for 5!

— Donald J. Trump (@realDonaldTrump) August 8, 2018
On Tuesday night, the president also tweeted his regards to Republicans Troy Balderson, John James, Bill Schuette and Josh Hawley.
At this point, many Americans believe that recent political occurrences and discussions will affect the midterm elections. Bipartisan extremism, calls to abolish Immigration and Customs Enforcement and potential Russian meddling have been presented as potential factors that may sway voters.
Various political figures have also spoken out in support of candidates. Former FBI director James Comey, for instance, has urged Americans to support Democrats. Likewise, former Secretary of State Hillary Clinton has also endorsed Democratic candidates.
As midterm elections draw nearer and nearer, both Republicans and Democrats have received advice on how to attract voters. The GOP is recommended to focus on the economy and steer clear of divisive issues, such as special counsel Robert Mueller and the ongoing Russia probe.
Likewise, analysts believe Democrats should steer clear of policies that will alienate moderate and independent voters. Some examples include Medicare for All and socialized employment.
The current fate of the midterm elections is unknown. The accuracy, or lack thereof, of Todd's prediction will come to light in November.