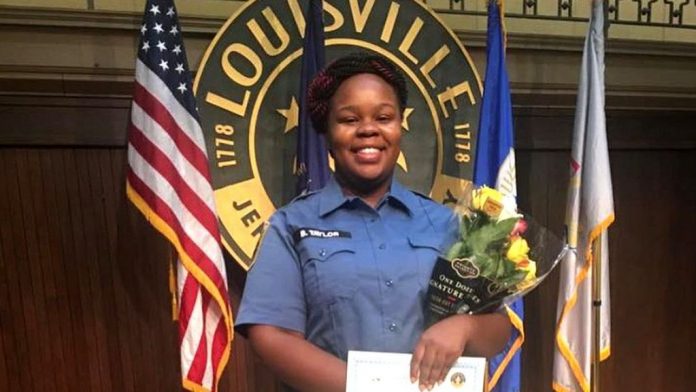 New details surrounding the murder of Breonna Taylor, an emergency room technician who was fatally shot by police in March while she was sleeping in her bed, have been released in an effort to bring justice and closure to her tragic death. 
"So at this point, we are hoping that this conclusion will be sooner rather than later, because justice delayed is justice denied," said Kentucky Attorney General Daniel Cameron. 
Cameron and attorney Benjamin Crump, representing Taylor's family, are hopeful the FBI ballistics report will give clarity, hope and closure to a broken community outraged by Taylor's murder. They also are hopeful the report will help guide the rest of their investigation in the right direction. 
"There is still additional analysis that must take place, and our office does not plan to make an announcement this week," Cameron said on Face the Nation, a Fox News segment. "We continue to work diligently to follow the facts and complete the investigation."
In the six months since Taylor's death, protesters, activists, politicians and celebrities have hailed her name and demanded justice. In June, Louisville city council voted to pass "Breonna's Law," which makes it illegal for police to enter a residence without properly and clearly identifying themselves. 
In the case of Taylor, the police lawfully obtained a no-knock warrant, which is typical of drug cases. Taylor was living with a two-time convicted drug dealer, and his scent is what the police were following that fateful March night. 
Usually no-knock strategies are used to ensure that a suspect does not dispose of, destroy or hide evidence, but police have to ensure specific safeguards are in place, like clearly identifying themselves as police and stationing an ambulance on sight. In Taylor's case, these two safeguards were not practiced. 
"That is a critical piece of this investigation," Cameron said. "It's not the end-all-be-all. There are still some witness testimony and interviews that have to be conducted. But we do have that ballistics report."
Breonna's Law has been highly praised by city and state officials, while activists say that it's not enough. Sen. Rand Paul of Kentucky, a high-profile federal voice for criminal justice reform, sponsored and introduced the Justice for Breonna Taylor Act bill, which would make it illegal for police or other forms of law enforcement to enter a residence without properly identifying themselves.
Cameron spoke at the RNC last week and expressed his endorsement of President Trump, explaining that Trump and the Republican party are fighting for justice and trying to keep streets safe. 
"I condemn any sorts of violence, any sort of racist rhetoric. I certainly recognize that this is a country that is ever growing and evolving. The Republican Party stands with those who welcome peace, justice and equality," said Cameron on Face the Nation. "I think just like your viewers, we can certainly tell the difference between those that in earnest want to make sure that there's peace, justice and equality in this country as opposed those that are trying to hijack this moment."
The FBI ballistic report and details therein will not be publicly released until a later date. 
————————————————–
Have a story you want USA Herald to cover? Submit a tip here and if we think it's newsworthy, we'll follow up on it.
Want guaranteed coverage? We also offer contract journalism here.  Just be sure you're comfortable giving up editorial control because our journalists are dogged and will follow the story through to the conclusion. The story will be published to our exacting standards, without regard for your preferred slant.
Want to contribute a story? We also accept article submissions — check out our writer's guidelines here.