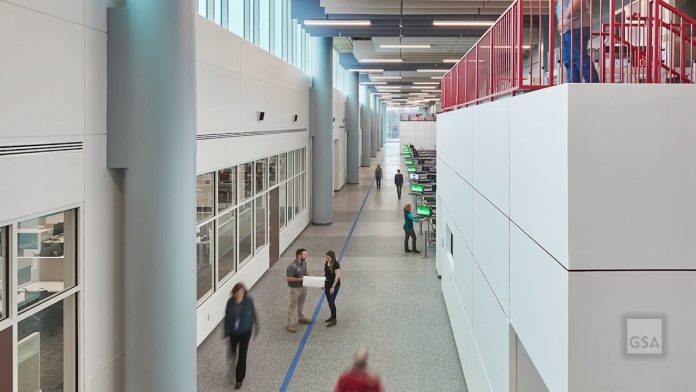 In July, the FBI opened up the sleek 256,000-square-foot Central Records Complex (CRC) in Winchester, Virginia. Hard at work inside the building are 500 agents and 100 robots. This is the first time this type of automation has been used in the public sector.
There are a few private commercial warehouses that have similar automatic storage and distribution systems, but there are no other government centers like the CRC using state-of-the-art technology like this.
The new records retrieval facility is located about 90 miles from Washington, D.C. It cost $135 million to complete the construction. The National Archives and Records Administration (NARA) worked with the FBI on the design and standards of the facility.
In an interview, Assistant Director of the FBI Information Management Division (IMD), Arlene Gaylord, explained how this is Phase II of the mission to consolidate the records of the FBI in one location. It may take two more years to bring in all the archived records from 56 field offices and other locations to Winchester and get all that information into bins for the robots to shelve. 
There are estimates that 500 semitruck loads will be needed to haul the FBI's closed files to the facility. 
FOIA requests and digital access
The use of automated technology to consolidate these files in one single location, not only represents huge cost savings, but it will also help the FBI comply with the mounting numbers of Freedom of Information Acts (FOIA) requests.
Information in the case files is also frequently sought by prosecutors, agents, and investigators.
When requests are made, the original files are digitized and sent back. Until now, those file requests would be distributed to individual offices and their staff. Digitizing all the files with the current staffing and the technology available could take more than 40 years. 
"Having everything under one roof along with an army of robots and FBI employees dedicated to the task will ease the burden on field offices and streamline file retrieval," said Gaylord.
This is a high tech facility that will ultimately store about 120 linear miles of closed files. And the over 2 billion pages in the files when lined up "end-to-end would go to the moon and beyond." she added.
How does it work?
In preparation for the transition, IMD staff have trained field offices on how to prep all their files before they are boxed, put on pallets, and shipped to Winchester.
In June, at the Central Record Complex FBI staff began reviewing records and loading them into custom-designed bins to be shuttled by wheeled robots into climate-controlled areas organized for easy retrieval.
Bins of case files are stacked 16-high in an elaborate steel grid by robots who are programmed to traverse the warehouse by following X, Y, and Z coordinates.
When requested, a robot retrieves a bin and then reshelves any bins it has displaced in the process, keeping track of their new coordinates.
Frequently requested records remain near the top of the grid and other files will drop to lower positions, which creates its efficiency. The robots provide real-time data for every bin.
All over the country, FBI cases are closed every day. This assures an endless flow of files that need to be safely stored or scheduled for destruction. The CRC, both its humans and robots, are working hard to meet the need.
————————————————–
Have a story you want USA Herald to cover? Submit a tip here and if we think it's newsworthy, we'll follow up on it.
Want guaranteed coverage? We also offer contract journalism here.  Just be sure you're comfortable giving up editorial control because our journalists are dogged and will follow the story through to the conclusion. The story will be published to our exacting standards, without regard for your preferred slant.
Want to contribute a story? We also accept article submissions — check out our writer's guidelines here.