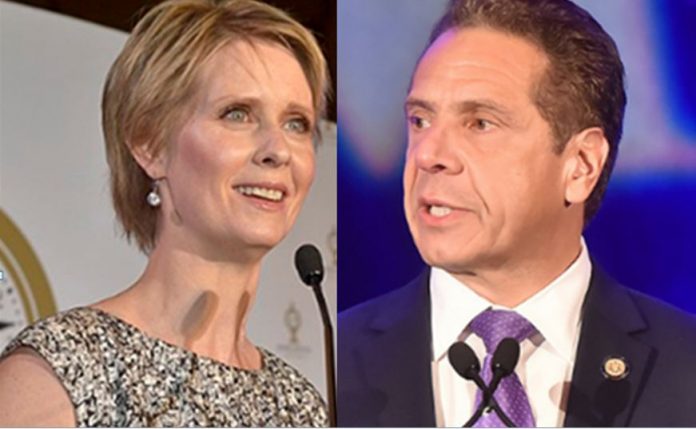 New York voters are heading to the polls for Thursday's state primary election. Actress and liberal activist Cynthia Nixon is challenging incumbent Gov. Andrew Cuomo, who has a huge lead in polls and a high favorability rating.
A recent poll from Siena College Research Institute showed that Cuomo had a 41-point lead against Nixon. Sixty-three percent of likely voters support the incumbent governor, while 22 percent favor the former "Sex and the City" actress.
Cuomo's favorability rating stands at 68 to 24 percent, while it is 41 to 33 percent for Nixon. According to Siena College pollster Steven Greenberg, the governor "expanded his two-to-one lead in July and he seems poised to overwhelm Nixon."
Despite Cuomo's big advantage, Nixon expressed confidence that she has a chance to upset the governor in the primary election. She said that there's a movement of left-wing voters clamoring for progress.
Nixon believes she can replicate the successes of Alexandria Ocasio-Cortez and Ayanna Pressley.
During the New York Democratic federal primary election in June, Ocasio-Cortez defeated incumbent Congressman Joe Crowley. Pressley beat incumbent Congressman Michael Capuano in the Massachussetts Democratic primary election on September 5.
Speaking on public radio on Tuesday, Nixon said, "We need fundamental change. That has come from a groundswell from the people. Don't believe the polls, don't believe the hype. We have a chance to strike a blow for real progressives."
Patrick Egan, a politics professor at New York University, disagrees. He told Reuters, "Those were huge exceptions to the rule, and to beat an incumbent in his own primary, you really have to draw an inside straight." He was referring to a lucky hand in poker.
Cuomo and Nixon Cast Their Ballots
Nixon has described herself as democratic socialist fighting for better funding for schools, justice system reform and single-payer healthcare.
In a tweet on Thursday, Nixon pleaded to voters to vote for a "better, fairer and more inclusive New York."
My family didn't have a lot of money, but I had opportunities that I don't see for the vast majority of kids today. We can change that.

Vote for a better, fairer, more inclusive New York today. #TeamCynthia pic.twitter.com/Pb6c5PrbwL

— Cynthia Nixon (@CynthiaNixon) September 13, 2018
On the other hand, Cuomo depicted himself as a strong opponent of President Donald Trump. He promised New Yorkers that he will continue to fight back against Trump's "nonsense."
During his campaign speech on Monday, Cuomo said, "I am the most aggressive governor in the United States of America in taking him on. This Thursday the 13th, we're going to make it an unlucky day for Donald Trump … let's fight back and let's show him that his nonsense doesn't sell here."
After casting his ballot on Thursday, the governor said, "I believe that my administration has started a very important, positive and progressive agenda. I want to continue doing it." He is confident that he will emerge with a big lead against his primary challenger.
Cuomo cast his ballot in Mount Kisco Presbyterian Church in Weschester County. Nixon voted at an East Village community center in Manhattan.