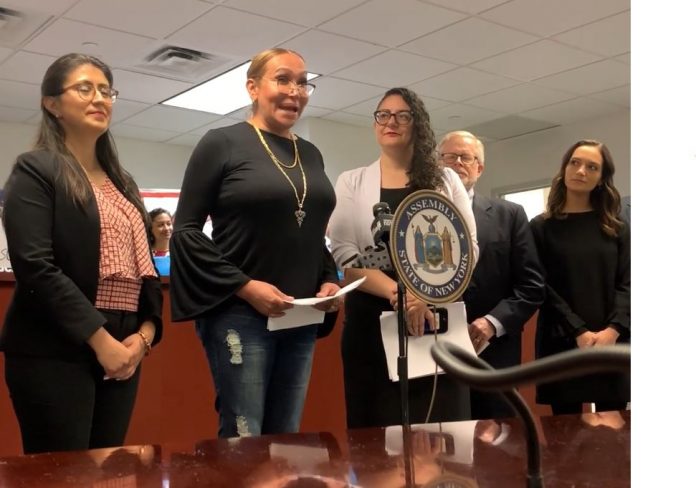 The State of New York will likely become the first in the nation to fully decriminalize certain prostitution offenses after several lawmakers introduce legislation to do so.
On Monday, state Senators Julia Salazar, Jessica Ramos and Assembly members Dan Quart, Dick Gottfried and Yuh-Line Niou introduced Stop Violence in Sex Trade Acts, a  package of bill seeking to amend New York State's penal code  related to prostitution.
Currently, the state has dozens of anti-prostitution laws. Almost half of those laws pertains to sex work between consenting adults while the other statutes focus on trafficking, exploitation of minors, and coercion in the sex trades.
Key details about the Stop Violence in Sex Trade Acts
The Stop Violence in Sex Trade Acts upholds all of the anti-trafficking statutes designed to protect children from exploitation and to punish traffickers. The proposed legislation will decriminalizes sex work between consenting adults but forcing or intimidating someone to engage in prostitution remains a crime.
Additionally, the legislation amends the penal code to reflect the diverse gender identities in the LGBTQ community. It also included a provision allowing sex workers and survivors of sex trafickon to apply for criminal record relief for their previous offenses.
In a statement, Salazar, said, "Sex work is work and should not be criminalized by the state. Our current policies only empower traffickers and others who benefit from keeping sex work in the shadows. New York State needs to listen to sex workers and make these common sense reforms to keep sex workers safe and empower sex workers in their workplaces."
On the other hand, Sanchez, commented, "Decriminalizing sex work between consenting adults in New York will protect many of my neighbors — people who have found themselves in limited situations because of employment and housing discrimination. We will finally make strides against trafficking by empowering sex workers to report violence against them. Sex work is work and everyone has an inherent right to a safe workplace.
Decrim NY, a coalition of more than 30 organizations focused LGBTQ, racial justice and immigrant rights, supports the legislation. The organization in partnership with Data Progress conducted a national survey regarding the issue. They found that 56 percent of respondents support decriminalizing prostitution while 17 percent opposes it.