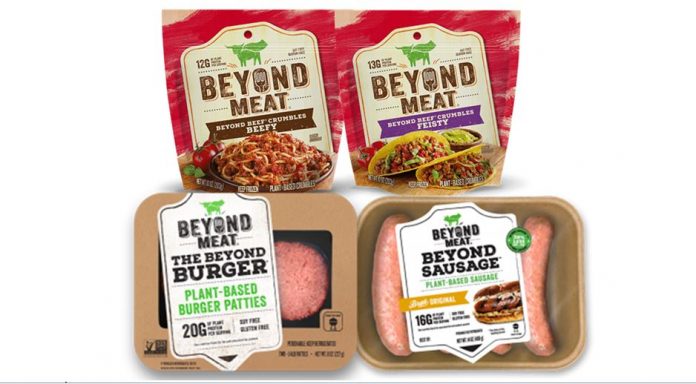 The stock price of Beyond Meat (NASDAQ: BYND), a revolutionary food company offering plant-based meats, soared as much as 34 percent on Monday.
BYND shares traded as much as $186.43 each at one point and then ended the day at a price of $168.10 each, still up by 21.24 percent. Beyond Meat's market capitalization is now more than billion, according to data from Google Finance.
Since its initial public offering (IPO) last month, the food company's shares already gained 572 percent. Its IPO price was $25 per share.
Obviously, investors are excited and optimistic about Beyond Meat's stock performance, which was driven by its first quarter financial results.
Beyond Meat reported strong demand for Beyond Burger
Last week, Beyond Meat reported net revenues of $40.2 million, an increase of 215 percent in the first quarter. The company said its revenue growth was driven by a strong demand for its Beyond Burger from existing and new strategic customers.
Its net loss was $6.6 million or $0.95 per share compared to $5.7 million or $0.98 per share in the same period last year. The company explained that its net loss increased because its operating, interest and non-operating expenses were higher.
For the full fiscal year 2019, Beyond Meat is expecting its net revenues to exceed $210 million and its net EBITDA to be approximately break-even.
In a statement, Beyond Meat President and CEO Ethan Brown said, "We are very pleased with our successful IPO during the month of May and our strong first quarter financial results that we believe demonstrate mainstream consumers' desire for plant-based meat products in the United States and internationally."
He added, "Our team continued to scale our business in both retail and foodservice as we benefited from broad-based growth in the first quarter. Looking ahead, we believe we are in the early stages of achieving the growth that Beyond Meat is capable of as we remain focused on efforts to increase brand awareness, expand our distribution channels, launch additional innovative products, and invest in our infrastructure and capacity to be able to serve a robust global market for plant-based meats."