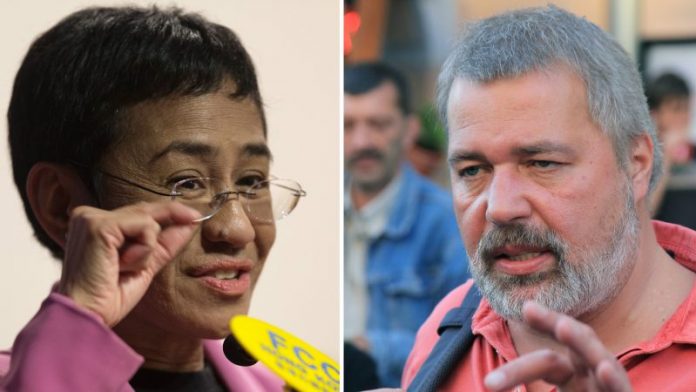 The AP reported that the 2021 Nobel Peace Prize was awarded jointly to journalists Maria Ressa of the Philippines and Dmitry Muratov from Russia. And they have both persevered in countries where they are being harassed by their governments.
They were honored for fighting for freedom of expression. They both live in countries where reporters are subject to attacks and may even be killed for what they write.
Ressa and Muratov were honored for "courageous" work. And are representing freedom of the press.
 Berit Reiss-Andersen, chair of the Norwegian Nobel Committee said they are "representatives of all journalists who stand up for this ideal in a world in which democracy and freedom of the press face increasingly adverse conditions." 
Nobel Peace Prize goes to truth-tellers
In 2012 Ressa co-founded Rappler in the Philippines. It is a news website that the committee noted has focused attention on President Rodrigo Duterte's "controversial, murderous anti-drug campaign." 
Ressa is the first Filipino to ever win the peace prize. And she is the first woman being honored this year.
Rappler has made public evidence proving that "social media is being used to spread fake news, harass opponents and manipulate public discourse."
In 1993 Muratov was a founder of the independent Russian newspaper Novaya Gazeta. And the Nobel committee called it "the most independent newspaper in Russia today, with a fundamentally critical attitude towards power."
"The newspaper's fact-based journalism and professional integrity have made it an important source of information on censurable aspects of Russian society rarely mentioned by other media." 
Six Russian Novaya Gazeta journalists have been killed since its founding. And the Russian government has sent others to prison.
Gazeta and Ressa both attacked for journalism
Ressa,58, is currently out on bail. But she faces a conviction of libel and possible jail time. And she is fighting seven active legal cases. 
She hopes the award will make investigative journalism stronger in the mission to "hold power to account."
"This relentless campaign of harassment and intimidation against me and my fellow journalists in the Philippines is a stark example of a global trend," she added.