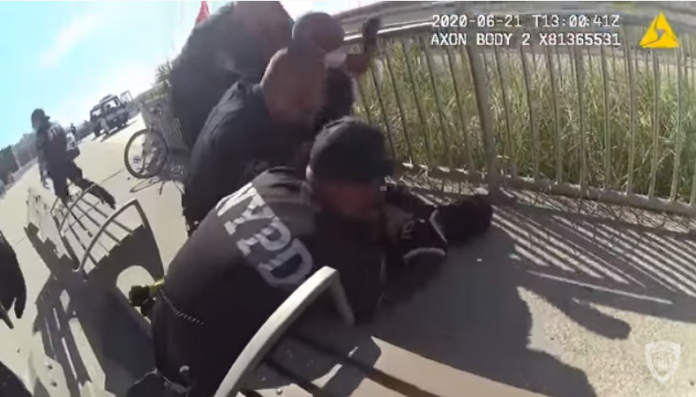 A New York Police District (NYPD) officer involved in a "disturbing apparent chokehold incident in Queens" has been suspended without pay.
In a tweet on Sunday, New York Police Commissioner Shea said, "Accountability in policing is essential. After a swift investigation by the Internal Affairs Bureau, a police officer involved in a disturbing apparent chokehold incident in Queens has been suspended without pay."
NYPD is conducting a full investigation, releases video of the incident
"While a full investigation is still underway, there is no question in my mind that this immediate action is necessary. We are committed to transparency as this process continues."
The NYPD Internal Affairs Bureau opened an active use of force investigation after a video of police officers arresting a man was posted on social media. The man being arrested was identified as Richard "Ricky" Bellevue.
The chokehold incident happened around 8:45 a.m. on Sunday at the boardwalk in Rockaway Beach in Queens. NYPD officers were responding to a call regarding a disorderly group in the area, according to CNN reporting based on information from a law enforcement source.
The source said at one point Bellevue approached the police officers and threatened to throw feces on the officers' faces. The man also said, "Touch one of my boys and you'll be dead."
The NYPD released a video of the incident from a police body camera showing that three men were disrespecting, provoking, taking videos, and even threatening the responding officers.
This incident follows in the wake of George Floyd protests and an influx of videos highlighting police brutality against People of Color.
Here is the body worn camera associated with this incident.

This matter is taken extremely seriously and updates will be shared with the public as the investigation unfolds.https://t.co/21Mz3YPQKZ

— NYPD NEWS (@NYPDnews) June 21, 2020
You can see and hear the three men calling the names and badge numbers of the officers. They are seen taunting and challenging the police officers, who repeatedly told the three men that they are on video, too.
About ten minutes into the video, a scuffle breaks out with three police officers trying to arrest Bellevue. One of the men can be heard saying "stop choking him."
From the view of the camera, one of the arresting police officers is seen eventually removing his arm from Bellevue's neck. After that, the police officers handcuffed him, helped him stand up, and walked him to the squad car.
Watch the cellphone video below:
NYPD officer used an illegal chokehold on a black man this morning in Far Rockaway, NY — and only stopped because another cop realized they were being filme.

They choked him out… pic.twitter.com/SXZNnSbwDM

— Rex Chapman🏇🏼 (@RexChapman) June 21, 2020