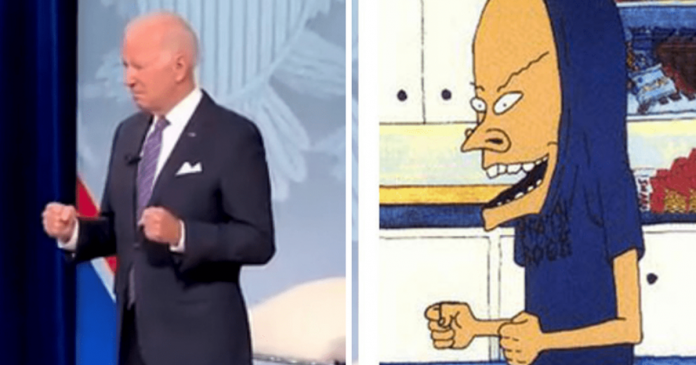 On Monday President Biden repeated a story he has been telling since last year. And once again Biden confused events and invented an alternate reality that is difficult to understand.
This time the story was already debunked by CNN on June 30th.
The story that Biden is "misremembering" is all about Amtrak and a former conductor named Angelo Negri.
During a speech at the NJ Transit maintenance facility in Kearny, NJ, Biden was indicating that the $1.2 trillion Senate-passed bipartisan infrastructure bill would boost funding for Amtrak.
"I apologize because some of you have heard this," Biden opens his talk.
"When I was vice president I used to like to take the train home because my mom was very sick and dying. And I'd come home every weekend," said Biden. Biden was Vice President from 2009 to 2017. And his mother died in 2010.
"I'm getting on one Friday and then one of the senior guys on Amtrak, Angelo Negri … walks up to me and he goes, 'Joey baby!' He grabs my cheek. And I thought the Secret Service was gonna blow his head off. I swear to God, true story."
Biden continued: "I said, 'What's up, Ang?' He said, 'Joey. I read in a paper. I read in the paper, you traveled 1,000 — 1,200,000 miles on Air Force planes.' Because they keep meticulous tabs of it."
Biden said that Negri had done the math and said, "You know how many miles you travel on Amtrak, Joey? … 2,200,000 miles… So Joey, I don't want to hear this about the Air Force anymore."
Negri retired from Amtrak in 1993, meaning he didn't work there when Biden was vice president. And he died in May 2014.
Biden usually says the story happened in his final year as vice president, but he didn't include that detail Monday. His mention of his mother's death suggests he may think it happened earlier.
Biden claimed he discussed the number of miles he traveled by train with Negri in 2010, but Negri retired from Amtrak in 1993.
But there's another problem with Biden's facts. CNN reported that "Biden's account simply does not add up. Biden did not reach the million-miles-flown mark as vice president until September 2015, according to his own past comments."
Biden confused story
Biden last told the story on Wednesday in Scranton, Pa. And he got confused there as well. He was saying he commuted on Amtrak for 36 years as vice president.
"I commuted [on Amtrak] every single day for 36 years as vice president of the United States after my wife and daughter were killed, I went home to see my family, never stopped," Biden said. 
Biden's first wife, Neilia, and their baby Naomi died in a 1972 car crash. At the time, Biden was the senator-elect in Delaware.
Biden told the story in September during a one-on-one meeting in the Oval Office with UK Prime Minister Boris Johnson. And he also told a version of the story in June during an infrastructure speech in Wisconsin. And in April at a Philadelphia train station.
The White House is not responding to the New York Post's requests for clarification.
Biden has a history of telling tall tales. And Biden confused events has Years ago he was accused of plagiarising speeches. And exaggerating his accomplishments. He had a serious plagiarism incident during his law school years. And his 1988 speeches when he ran for president were outed as being filled with quotations taken from past Democratic politicians. 
It's unclear how confused Biden is, in general. But he seems really confused about his Amtrak story. His mileage details, dates, and the name of the Amtrak employee he was talking to are all wrong. The frequent retelling of the now-debunked story only adds to his critics' claims that he is in a mental decline.
Biden will be 79-years-old next month.
Perhaps he needs a rest. But it would be hard for him to take more time off. He seems to be taking more resting days than any president in recent history.
"Including this weekend's trip to Delaware, Biden has taken 35 personal trips and spent all or part of 108 of his first 276 days in office at one of his Delaware homes or at Camp David in Maryland." pic.twitter.com/YWZvnURBjR

— Jake Schneider (@jacobkschneider) October 23, 2021