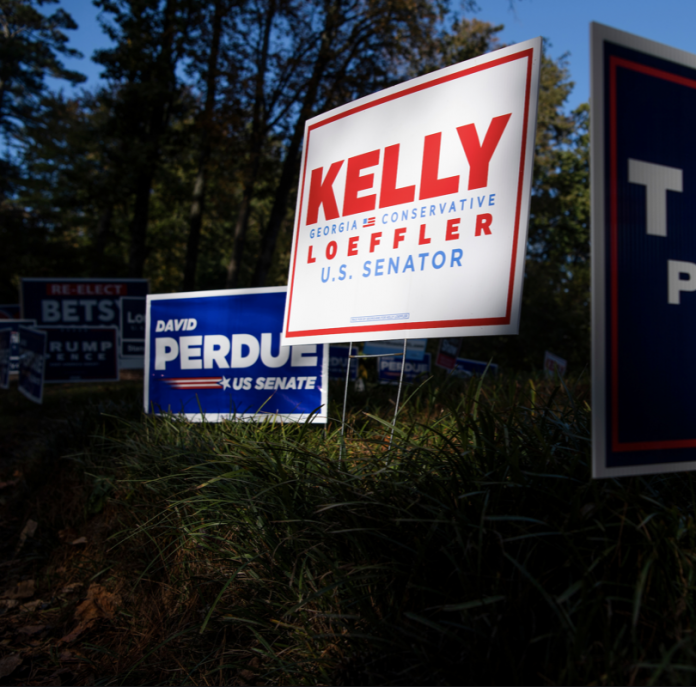 In Georgia, Republican Senators David Perdue and Kelly Loeffler are running for re-election. Seeking to take their seats are liberal Democrats Jon Ossoff and Raphael Warnock. Ultimately, the outcome of these senatorial runoffs will determine whether Republicans maintain or forfeit their majority in the Senate.
Get out and vote for @KLoeffler and @Perduesenate.

We can fight for our President and more Republicans in the Senate at the same time.

We have to do both. pic.twitter.com/lyqC1Um1DR

— Ronna McDaniel (@GOPChairwoman) December 4, 2020
Georgians have to get out and vote for Perdue and Loeffler. President Trump has called for Georgia residents to back these GOP senators, as have other Republicans and conservative groups. Unfortunately, though, there is some talk of Georgia conservatives sitting out the runoffs due to their displeasure with how state election officials handled the 2020 presidential race.
This is absolute lunacy and must be stomped out.
What happens if Georgia Republicans don't vote?
If Georgians don't turn out for Perdue and Loeffler in droves, there's a real possibility that Ossoff and Warnock will get elected. If this happens, Republicans will lose their current majority in the Senate; also, Democrats will have an unfettered monopoly on power in Washington D.C.
This means Democrats will control the White House, the House of Representatives, and the Senate….at the same time.
Georgia, ignore the noise from people who don't have the interests of the GOP, American people, and @realDonaldTrump at heart.

We need to hold the line against the radical left.

Vote for @KLoeffler and @Perduesenate!

— Ronna McDaniel (@GOPChairwoman) December 3, 2020
Chuck Schumer, the current Senate Minority Leader, has already stated that Democrats plan to "change America" should they win Perdue and Loeffler's Senate seats. House Rep. Alexandria Ocasio-Cortez also declared that Democrats want Ossoff and Warnock in the Senate so that the party doesn't have to "compromise" with the GOP.
Dealing with concerns about the 2020 presidential election
Many Georgians rightfully have concerns about the 2020 presidential election; these concerns are also warranted and reasonable, all things considered. However, there is a time and proper strategy for making these concerns heard and engendering change.
Sitting out the Georgia runoffs is not the way. Handing the Senate majority and a monopoly on power to Democrats is also not the way either. Republicans who are unhappy with the 2020 presidential election's results will be much unhappier if Democrats control Congress and the White House with no checks-and-balances.
President Trump is hosting a rally in GEORGIA this Saturday at 7pm in support of @Perduesenate & @KLoeffler.

Get ready, GA!

Register ⬇️https://t.co/Bs3lJudsTt

— GOP (@GOP) December 4, 2020
Emotions are understandably tense; nonetheless, it is a fool's errand for Georgia Republicans to sit out the January runoffs. As President Trump stated, such actions will only play right into the hands of the Democrats who would love nothing more than for Republicans not to vote.
No, the 2020 Election was a total scam, we won by a lot (and will hopefully turn over the fraudulent result), but we must get out and help David and Kelly, two GREAT people. Otherwise we are playing right into the hands of some very sick people. I will be in Georgia on Saturday! https://t.co/1ziqFq9S6O

— Donald J. Trump (@realDonaldTrump) November 27, 2020
Georgians: please get out and vote for Senators David Perdue and Kelly Loeffler. The future of the country depends upon this. Early voting begins as soon as Monday, December 14, 2020. The final day to vote is January 5, 2021.
—————————————-
Have a story you want USA Herald to cover? Submit a tip here and if we think it's newsworthy, we'll follow up on it.
Want to contribute a story? We also accept article submissions – check out our writer's guidelines here.