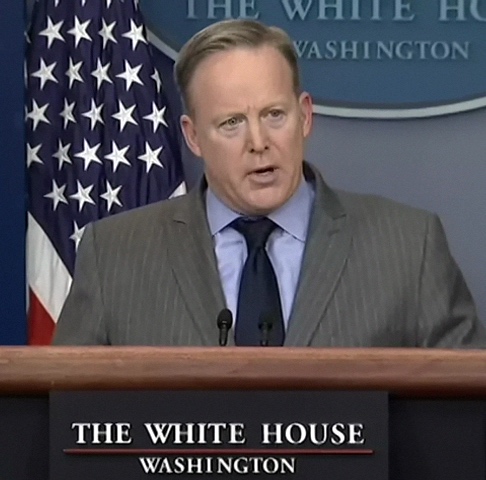 Why Nobody Takes Politicians Seriously Anymore – All they do is Pander.
The recent outcry regarding White House Spokesman Sean Spicer's reference to Adolph Hitler is exactly and precisely what is wrong with American politics. There is a complete lack of civility, an even greater lack of intellectual consistency and virtually zero common sense in the things these people say. Our political leaders are so comfortable switching sides of philosophical arguments, whenever convenience moves them, we can only hope they remain in the legislative branch as the concept of judicial, much less their own precedent, is entirely foreign to them.
Spicer was referencing the use of chemical weapons by Syria's leader Bashar Assad on his own people and commented that the use of such, was something even one of the most recognized tyrant's in the history of the world had not done. Anyone with any sense of history would understand that Spicer was condemning both men in the context of his comments. Further, the same would also note that following WWI, most modern nations agreed to the Geneva Convention, governing wartime acts and treatment of POW's.
Nobody with any sense at all could have concluded that Spicer was elevating the evil of Assad over that of Hitler. It was merely an anecdotal reference for effect that Assad is truly evil. Almost immediately, the liberal Democrats lead by Nancy Pelosi condemned the reference and began their typical pandering of the Jewish vote to remind the world that Hitler while may not have used Mustard Gas on his battlefield foes, he was quite comfortable using the same in Concentration Camps in his efforts of genocide toward the Jews.
Pandering based on the horrific loss of lives is not new to politics, but Pelosi seems to do it so effortlessly, we felt compelled to recognize her here. However, those wishing to pander to one population for political points might want to check all their facts before they rush out. War and evil are complicated, and in today's world of Universal American Victimness, it's a dangerous approach. Spicer was factually wrong in that Hitler deployed tactics so far beyond chemical weapons, the world still finds his deeds and those done on his behalf unfathomable, but his point again was NOT to defend Hitler, but to condemn Assad.
If Spicer showed disrespect to the Jewish community and it needed defending, then Pelosi also failed to defend others and thereby showed them equal disrespect. Should we now expect the "gypsy lobby" to cry out that Pelosi only cared about the Jewish deaths in WWII and not the gypsy deaths or perhaps the Poles can complain that she failed to mention the millions of Polish citizens slaughtered during Hitler's evil quest for world domination? Finally, why did Pelosi not condemn the comments in defense of the Russian people who lost more lives in the war than any other nation? Or perhaps the Japanese civilians whose lives were lost when a former US President (a Democrat at that) ordered their annihilation in Nagasaki and Hiroshima.
While Truman's decision is easy to defend and Hitler and Assad easy to condem, outrage for outrage's sake really becomes silly when it is not sincere. Had Spicer defended Hitler, some outrage would be due. While it may be unwise to compare the actions of evildoers relative to one another, it certainly should not give rise to the leader Congress to react so vehemently. The same goes for all those, Jewish or not, who jumped on the bandwagon. It is not lost on anyone that many of these same people or at least those from their side, are often caught using the Hitler reference toward modern day political leaders like our President – and their left leaning friends always struggle to condemn that kind of speech. That is where outrage should like, but it takes a philosophical compass for real outrage and Nancy Pelosi can only feign it, because she has no compass.