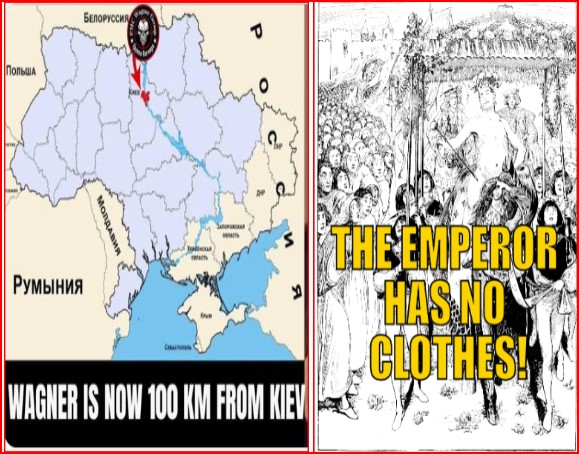 Russia may have had the quickest casualty-free coup attempt in history. As they were closing in on Moscow, the Wagner Group and its estimated 25,000 mercenary soldiers were supposedly ordered to stand down and head to Belarus. And the battle-hardened mercenaries reportedly gave up their coup attempt and immediately turned around.
On Friday night the mercenary troops were 1,000 km (621 miles) south of Moscow in Rostov-on-Don. By Saturday morning the group was supposedly 200 km (124 miles) from Moscow marching to take control of the Kremlin. And today reports are that they are 150 km (93 miles) from Kyiv the capital city of Ukraine.
The distance between Moscow and Kyiv is 856 km (532 miles). No one went to Belarus. Apparently, the mercenary troops don't need sleep or breaks of any type.
Despite Wagner's U-turn, headlines are claiming that PMC Wagner launched an armed uprising against Moscow. And that Putin is "embarrassed" by the armed mutiny offensive where no one fired a shot.
Wagner coup attempt
Putin appeared on television earlier on Saturday morning in an emergency broadcast, issuing a nationwide call for unity in the face of a rebellious strike that he compared to the revolution of 1917. A visibly angry Vladimir Putin made an emergency television broadcast railing against the "deadly threat to our state."