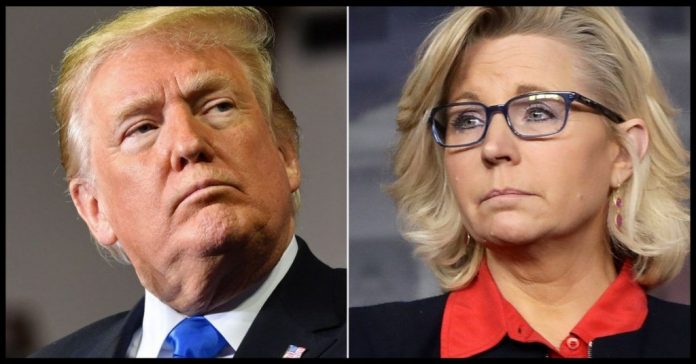 Saturday in Rock Springs there was a fundraiser for Republicans in Wyoming. Active conservatives traveled from around the state to support the Republican agenda and their candidates. But Representative Liz Cheney, who has represented Wyoming since 2017, was not invited.
In the 2020 presidential election, Trump won 70% of the vote in the state. That is the highest percentage of any state.  
She spent Saturday night with her new base, a group of reporters and media executives at the annual Wyoming Press Association gathering.
In DC the Republican National Committee voted to censure Liz Cheney the day before the Rock Springs gala. The state party followed suit and added a resolution to remove her from future contact with the Wyoming local Republicans.
Her vote to impeach Trump last January was a turning point. And in July 2021 Speaker Nancy Pelosi appointed Cheney to the House Select Committee on the January 6 Attack. In September she was made vice-chair of that committee.
Private polling in January revealed that 31% of Wyoming Republican primary voters still had a favorable view of Cheney, compared to 60% who saw her unfavorably.
Liz Cheney Neo-con Republican
Cheney is the oldest daughter of former Vice President Dick Cheney. And while he was in office she was tagged as deputy assistant secretary of state for Near Eastern affairs.
She also served in the House Republican Conference, with the third-highest position in the House Republican leadership, from 2019 to 2021.
Cheney was happy before Trump came along and energized the Republican Party. Back when Republicans were more elitist Cheney was a rockstar. Back when the strings were being pulled quietly, in secret, she was the ultimate deep-state advocate.
 She rode her dad's coattails into public service. And held his Neo-con pro-war views close to her heart. And her political career survived and thrived despite her 2016 "never Trump" stance.
Cheney has been the U.S. representative for Wyoming's sole congressional district since 2017. She holds the seat her father held from 1979 to 1989.
Changing times
Now Cheney is certainly exiled from the Republican Party apparatus. And she seems to be "missing-in-action" from her constituents. 
She stopped appearing at state Republican Party functions more than two years ago. And hasn't made a live in-person appearance at any of the 23 county chapters since 2020. 
Cheney has been vocal about her dislike for Trump. And she has spoken out often saying she is only following her conscience.
"I was pro-Trump, and I am proud of the policies of the Trump administration," she told the crowd of journalists. "But he crossed a line you can never cross. Some people, I think, interpreted my vote to impeach him as a vote in favor of Biden or Biden's policies, which it wasn't."
Sam Eliopoulos, a Cheyenne businessman, and Republican is running for a state seat. He questions what Cheney is doing.
"She speaks about her conscience, but you weren't elected to do what you think is right, you were elected to do what the people want. She didn't do what the people want her to do. At the end of the day, that's it."
President Liz Cheney?
Cheney was quoted in 2021 as saying she will be "the leader, one of the leaders, in a fight to help to restore our party." And that she may even have a presidential run in her future. She may still be hoping that a silent majority of Trump haters will push her to the top spot. But in Liz Cheney's world, those may not be Republicans after all.
And it was interesting that she had a one-on-one meeting last summer with Jeffrey Katzenberg, the billionaire Hollywood mogul. And Democratic mega-donor. Katzenberg and his wife each contributed the maximum allowed to Cheney's campaign.
Even Cheney must understand that the Republican Party won't be the same after Trump. But perhaps she can switch to the Democrats or even get herself an anchor chair at MSNBC or CNN.
Either way, in her case, Thomas Wolfe was right when he said, "You can't go home again."