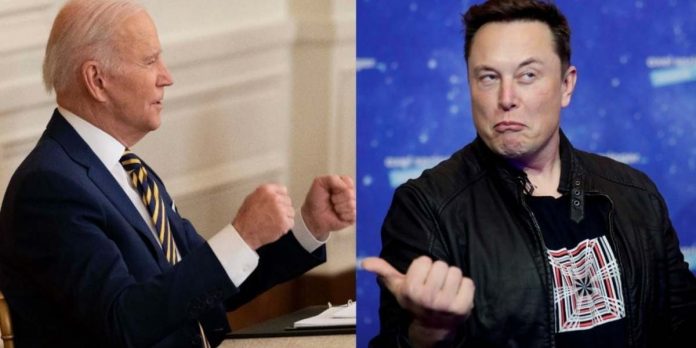 Tesla is the global leader of electric vehicles (EV). The car company makes and sells lots more EVs than any other US automaker. On Tuesday, President Joe Biden finally acknowledged Tesla. 
This is the first time since he was elected that he mentioned the company's status as the USA's largest producer of electric vehicles.
Biden was accused of trying to pick winners and losers. But his dismissal of CEO Elon Musk looked more like he was trying to turn a winner into a loser. 
The president and everyone in his administration made snide comments. The US president has been at war with a private company.
Tesla fans were very upset by Biden's constant disrespect. And Musk's tweets often pointed it out. 
Tesla supporters even started an online petition.  The 50,000 people who signed the petition were demanding Biden say the name. There was even a digital ad in Times Square that urges Biden to "Just Say It." 
Tune in as I deliver remarks on our work to rebuild American manufacturing. https://t.co/nPXLUh6bG8

— President Biden (@POTUS) February 8, 2022
Twitter came alive with the word "Tesla"
Elon Musk's mom even retweeted Biden's remarks.
One word in his rather tedious "Remarks on his Administration's Work to Rebuild Our Manufacturing to Make More in America, Create Good-Paying Union Jobs, and Lower Energy Costs for Americans" caught everyone's attention.
"From iconic companies like GM and Ford building new electric vehicle production to TESLA, the largest electric vehicle manufacturer in the United States, to an innovative young company," Biden said. He hopes that more start-ups, and manufacturing jobs "will return to the United States in decades," he said. 
Biden car war 
It all started when Biden held an EV summit at the White House in August 2021. And he didn't invite Tesla.
White House spokesman Jen Psaki confirmed Musk's suggestion. When asked if the White House did not invite the CEO because Tesla wasn't unionized. She said, "Let's draw your own conclusions." 
Musk criticized Biden when he was not invited to the White House event. And by September Biden's EV policy appeared to benefit every car maker except for Tesla. It prompted Musk to claim the Biden administration policy appears to be controlled by trade unions. 
Biden also gave all EV makers except for Tesla and Toyota incentives of 4 to 6 thousand dollars to purchase an EV. The summit was supposed to highlight American made cars. And more than any other electric cars, Tesla parts come from the US.
And Tesla employs tens of thousands of workers in the US. Even though they aren't unionized Tesla employees are helping the transition to EVs.
And just last month, Biden met with General Motors CEO Mary Barra. And he repeatedly praised the electric vehicle efforts of Detroit automakers, even though GM sells far less EVs than Tesla.
After Biden met Barra, Musk tweeted a video of the two talking. He said, "Starting with a T, with A / ESL in the middle." And then he compared Biden to a "wet sock puppet."
Clearly disappointed, Musk said in a panel discussion that "They (Biden and Barra) never mentioned Tesla and praised GM and Ford for leading the EV revolution." Musk said in a panel discussion, "It may sound a bit biased." "It seems to be dominated by the union, not the friendliest government," he said.
Anyone that has been paying attention would realize that Elon Musk's car company has always been leading the EV revolution. And today Biden finally said the word that he hates to say…" Tesla!"