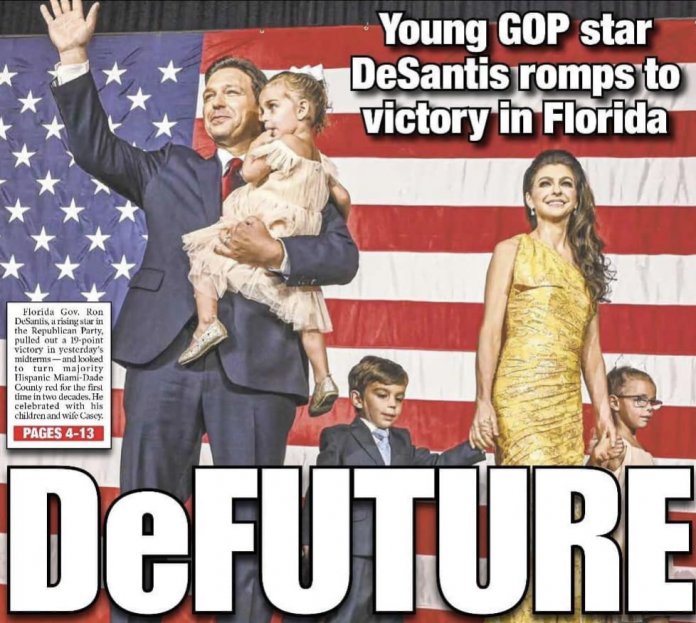 Many Americans can agree that having Joe Biden in the White House has been an absolute disaster. Inflation and interest rates are up; meanwhile, energy independence and confidence in the direction the country is heading remain at all-time lows.
Making Biden a one-term president is deeply imperative. Though, the best Republican to go head-to-head against Biden (or whichever Democrat runs in 2024) is not Donald Trump, but newly re-elected Florida Gov. Ron DeSantis.
The case for DeSantis
On Tuesday, the Florida governor handily secured reelection. DeSantis defeated Crist by nearly 20 points. He flipped counties like Miami-Dade that were previously viewed as reliably Democratic territories.
During his campaign for governor, DeSantis also won bipartisan support, as documented by Palm Beach County commissioner Dave Kerner, a Democrat, endorsing DeSantis.
NY Post front page: DeFuture pic.twitter.com/YtE5hQx70K

— End Wokeness (@EndWokeness) November 9, 2022
Republicans, Hispanics, Independents, and women also turned out to reelect DeSantis. The ability to pull in support that crosses demographics and partisan lines is a must for any future presidential candidate. It will make or break one's candidacy in a general election.
DeSantis' win in Florida also changes the state's landscape, which was previously viewed as purple, to reliably red.
Throughout his time as Florida's governor, DeSantis has shown a willingness to fight. He's demonstrated his resolve to stand up for principle, even when it means taking hits from the left.
The case against Trump
Some of the former president's fiercest loyalists want him to seek reelection again. Yet, the problem is Trump just cannot win. For one thing, his presence in the GOP garnered major losses for Republican candidates.
Trump claims he endorses the best of the best.
Yet, Republicans like Tudor Dixon in Michigan and Mehmet Oz in Pennsylvania, both Trump endorsees, lost their campaigns to Democrats Gretchen Whitmer and John Fetterman, both of whom should have been easy to defeat.
In order to win a general election, Trump will need more than just populist conservatives and Republicans. He will need moderates, Independents, suburban moms, and swing voters.
He does not have this support, plain and simple. Where Trump would lose these voters, DeSantis would win them over. A Trump candidacy would also push centrists and undecideds to the left, rather than the right.
Polls show that roughly six in ten Americans do not want Trump (or Biden) running for a second term. The populist right is not enough to put Trump back in the White House; yet, this is where most of his support lies. It's just not enough for victory in a general election.
NY Post: "What Tuesday night's midterm election results suggest is that former President Donald Trump is perhaps the most profound vote repellant in modern American history." pic.twitter.com/FbGtTcsmEr

— MeidasTouch (@MeidasTouch) November 10, 2022
Republican pushback against Trump
Even on the Republican side, more people are waking up to the negative effects Trump had on the GOP in the midterms. To many people, Trump cares more about his own ego than about bettering the Republican Party or the country.
This was seen when Trump ripped the Florida governor as "Ron DeSanctimonious" merely days before this month's midterms. Trump did this with zero provocation from DeSantis.
Even people who would ordinarily support the former president said this was in bad form and indicated that Trump feels threatened by DeSantis.
At the end of the day, in a presidential election, DeSantis can win over voters who will never back Trump. He also doesn't have the baggage that weighs the former president down. This makes DeSantis a better nominee for the GOP than Trump.
As time passes, more Republicans are seeing that while Trump represents the past of the GOP, DeSantis represents the future.