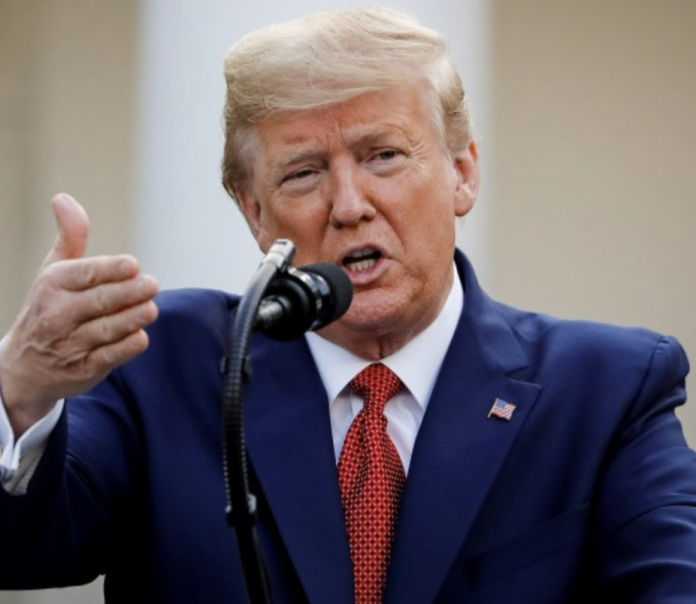 Despite President Trump's daily white house briefings describing the rollout of Small Business Association (SBA) loans as "flawless" and "without glitches," Trump supporters, along with the rest of Americans, are becoming more and more frustrated with the lack of funding.
The $350 billion small business loan program was launched Friday, April 3, and has suffered a slew of technical issues and lacked clarity on loan requirements. A program that was supposed to provide much needed aid to small businesses across the country has fallen short of expectations, though Trump continues to sing its praises at every opportunity, recently tweeting about being "way ahead of schedule."

Banks have received tens of thousands of applications for billions of dollars in loan amounts and have quickly been overwhelmed. Lacking direction from the Department of Treasury, banks began to sort through applications, prioritizing those that met their own standards. Basically, giving priority to those applicants who not only banked with them, but also had a prior credit history — leaving many applicants without access to critical funding.

NBC reported on Saturday that "Senior banking executives at Bank of America and Chase told NBC News they were still waiting on loan numbers to come back from the SBA, and so far had not processed any more than a trickle from the flood of applicants."
The process itself is also presenting problems. Applicants must first go through their banks, which then forwards them through the SBA loan system. Unfortunately, many banks have reported issues accessing the portal and there isn't a way to speed up the system yet.
The president of the union representing SBA workers said he's been hearing about "issues" with E-Tran since Friday, according to reporting by Bloomburg. And because these loans are awarded on a first-come, first-served basis, applicants who can't get their loans processed because of technical issues may miss out on vital funding.
To combat this, President Trump announced today that he is trying to "supplement the money" available and is "in talks" to increase funding. And though he claims the SBA has processed $70 billion in loans, it's still unclear when that money will be available.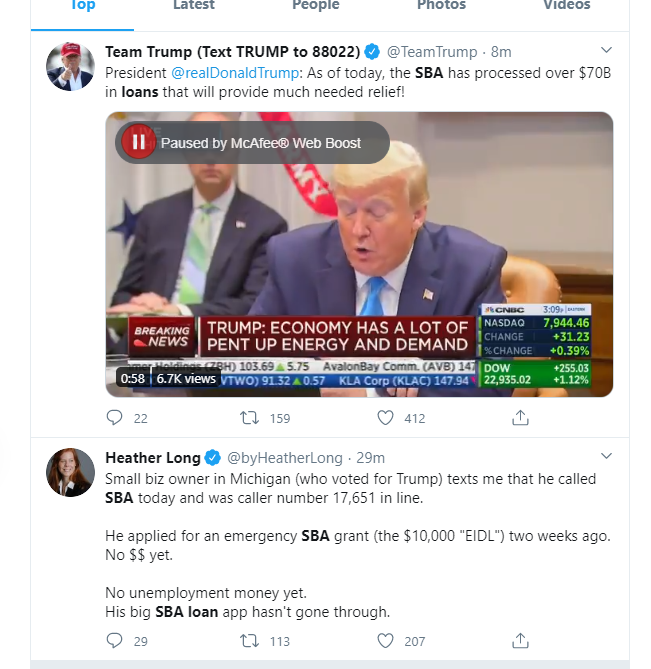 If Trump can't get this embarrassing debacle sorted out, this could affect his ability to win reelection. Small business owners on Twitter are tearing into the fumbled SBA loan rollout and frustration is mounting. Everyone is swiftly tiring of empty promises.


In February, CNBC reported Trump's approval rating among small business owners had hit an all-time high at 64%. According to the survey, small business owners are more likely to be Republican than Democrat, which is why his approval rating was so high among this group.
But republicans, historically touted as the fiscally responsible party, are unlikely to be impressed if they're unable to keep their businesses operating. If Trump can't follow through on these SBA loans, he may see a decrease in approval ratings here going into the final leg of his election campaign.
Trump has maintained a strong base of supporters throughout his presidency, despite and maybe even because of his tendency to grandstand. He's a personality that the blue-collar working man has been able to get behind. Will this be the final straw that ends his bid for reelection? Or will he pull it together last-minute and get funding out just in time to appease his voting base and follow through on promises of a strong economy?