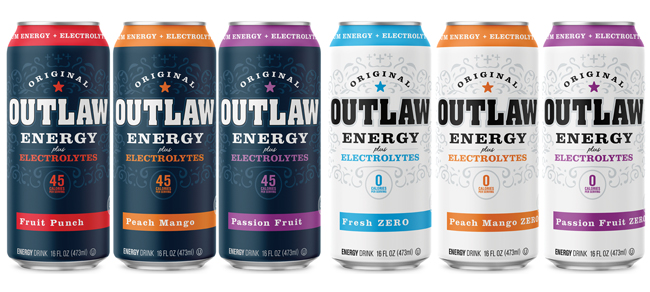 Outlaw Energy Beverage INC, founded in 2014 as the energy drink for "tough-as-nails people," is closing its doors.
In a LinkedIn post, David Martin, VP of sales, announced that Outlaw energy was unable to raise enough capital to keep their doors open. Martin also "thanked" everyone who helped make the journey memorable.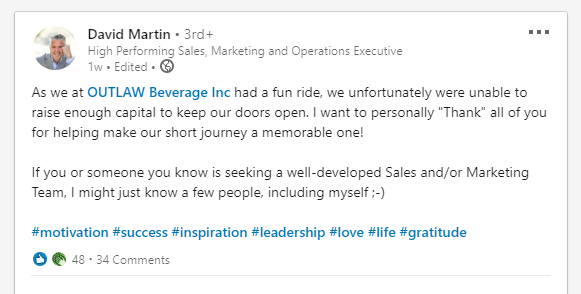 The company had previously received funding from Grand Crossing Capital LLC, who were "inspired by the success of founders Doug Weekes and Lance Collins." Grand Crossing's portfolio also includes a manufacturer of fishing boats, a bottled water brand, and a fashion brand.
An SEC filing, dated June 2016, announced their intention to raise $10 million, with a minimum investment for outside investors listed at $100,000.
Other than the LinkedIn announcement by Martin, there has been no social media activity further addressing Outlaw's closure. It's closure follows a rocky past few years for the company.
Rebranding
According to BevNET, Outlaw Energy underwent a rebranding in 2018 when they brought in Jesus Delgado-Jenkins as the new CEO and chair. Delgado-Jenkins, who was the executive vice president and chief merchandising officer for 7-eleven, took over for Outlaw founder Doug Weekes, who stayed on as COO.
Outlaw has a country-western brand and its website features pictures of, mostly Caucasian, men and women bull riding, roping and engaging in other stereotypical American-western activities. Also featured on the Outlaw website is country music singer, Jason Aldean, who has partnered with Outlaw since 2016.
The 2018 rebrand introduced several new flavors and the addition of electrolytes, among other ingredients, and three zero-sugar options. It also included new packaging that called attention the addition of electrolytes, and a reworked logo.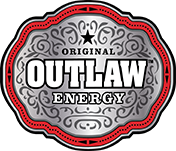 While BevNET reported that the rebranding was a move away from the country-western stereotypes, it's unclear which audience the new hydrating formulas and packaging were meant to appeal to.
In a 2018 statement to BevNET, Delgado-Jenkins said, "We don't plan on stopping our evolution of the product," he said. "We want to put it in the marketplace, get feedback from customers and engage with them, and help them be part of how the product evolves and is continuously improved over time. We're going to work really hard at that."
Battle of the brands
In 2019, Outlaw co-founder, Lance Collins, launched his own energy drink brand, Adrenaline Shoc (A Shoc) following a failed injunction by Outlaw.
Outlaw alleged that Collins created A Shoc in his role as an Outlaw director. Outlaw had been in talks with 7-eleven to create a private label product to compete with other energy drink brands. 7-eleven eventually withdrew their interest.
Meanwhile, Collins developed A Shoc and applied for trademarks with the knowledge of then Outlaw CEO, Delgado-Jenkins.
A judge ruled that Collins developed A Shoc outside of his role as Outlaw director. The judge commented that Delgado-jenkins only sought an injunction after he learned he would not be an investor in A Shoc.
Full and detailed reporting on this case can be read on BevNET's site.
A Shoc seems to be geared towards young, gym-going adults. Their website features pictures of it's energy drinks in gym settings and spliced together with battle ropes coiled in the shape of a can, resting on top of stacked weights. It also features photos of young people working out, holding cans of A Shoc.
It advertises natural caffeine, ocean minerals (electrolytes), 9 essential amino acids to boost performance, and BCAAs for muscle recovery.
Their tagline reads, "A shoc set out to make the ultimate fitness enhanced energy drink using superior ingredients, no added sugar and no chemical preservatives."
Their product map indicates 5,000 locations where their drinks are sold, across the Southern half of the U.S.