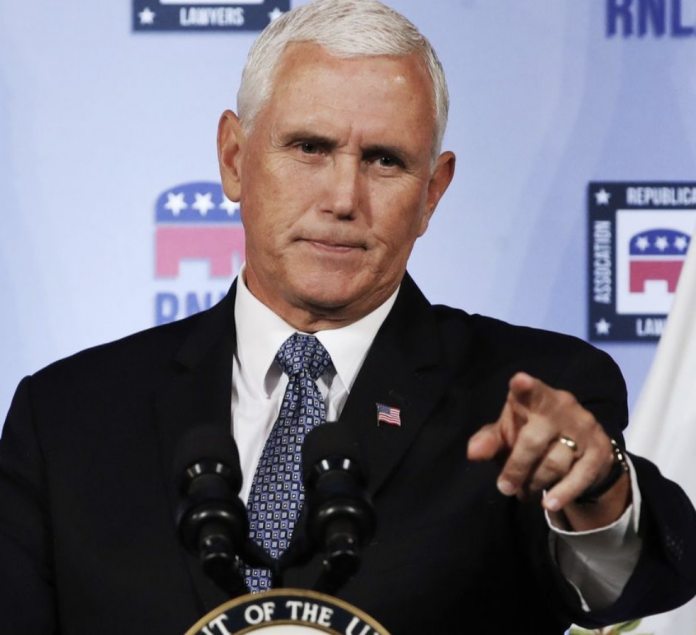 On Friday, Vice President Mike Pence spoke out about the immigration and the migrant caravan which is currently approaching the United States, reports The Hill. The Friday interview aired earlier today.
An Overview of the Vice President's Statements
During a Hill.TV interview, Pence spoke out against the "crisis of illegal immigration."
"On any given day, we have more than a thousand people attempt to get into this country illegally. Democrats on Capitol Hill have opposed building a wall, opposed closing the loopholes that human traffickers use to entice vulnerable families to make a long and dangerous journey north."
The vice president then noted that President Trump is determined to fix the "broken immigration system" by building a wall across the Southern border. Shortly thereafter, Pence shared remarks about the approaching migrant caravan.
"The latest caravan is just the latest reminder to the American people of how much we need to address this crisis."
Towards the end of the interview, the vice president tied the need for immigration reform in with the paramountcy of maintaining "Republican leadership" in the government.
Throughout the 2016 presidential election, immigration reform served as a critical point of Trump's plan to Make America Great Again. Like the president and vice president, conservatives and other right-wingers frequently stress the importance of adhering to the nation's immigration laws.
According to The Hill, the approaching caravan is comprised of 6,000 migrant individuals.
More on Immigration Reform
Immigration reform remains a highly touchy subject in the realm of politics. Republicans and Democrats have largely different ideas on how to handle immigration.
Americans on the right have a tendency to favor lawful and merit-based entry into this nation. Conversely, left-leaning individuals are likelier to view immigration as a privilege for virtually anyone. Conservatives also generally support vetting individuals who wish to enter America.
In past weeks, the Trump administration faced bipartisan backlash regarding immigration. This occurred after Americans learned of the separations of families who illegally enter the United States. Some observers expressed the view that such separations are cruel. However, others stated that the parents who bring their children with them to sneak into the United States bear responsibility for subsequent consequences.
Finally, immigration reform will likely occupy the minds of many Americans who vote in the midterm elections. Many Republicans have expressed confidence in GOP victories.
Midterms will commence tomorrow on November 6, 2018. Additional reports will follow.