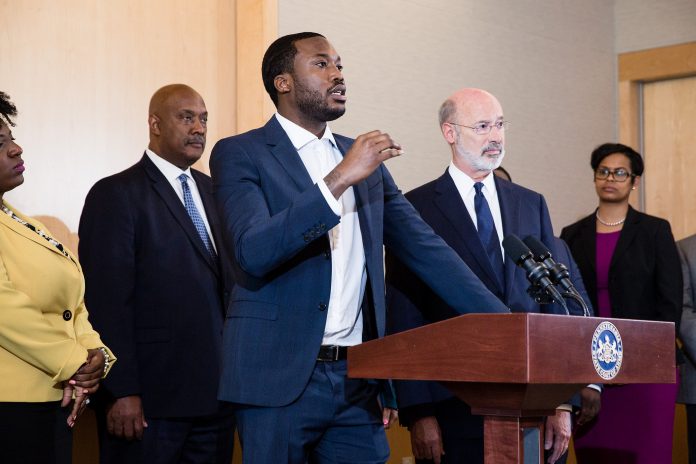 Pennsylvania Governor Tom Wolf together with rapper Meek Mill and Sixers co-owner and entrepreneur Michael Rubin called for criminal justice reforms.
Several state lawmakers including Representatives Dwight Evans and Donna Bullock as well as Senator Larry Farnese joined the call to action at the National Constitution Center.
On Thursday, Gov. Wolf said the debate on how to fix Pennsylvania's criminal justice system complicated. Over time, discussions changed and reflected the modern realities and problems in the current system.
The governor believe that they can improve the state's criminal justice system to protect victims. They can also "end a cycle of incarceration that has left so many people feeling trapped, helpless, and without an opportunity to return to society" after their release from prison.
In addition, Gov. Wolf said Mill's case put a spotlight on the state's criminal justice system that it needs changes. He emphasized that the system must be "better and fairer for everyone" and "more focused on rehabilitation."
Meek Mill is committed to speaking for the voiceless
On the other hand, Mill said he grew up in a neighborhood where young black men were constantly in contact with police. He knows that flaws of the criminal justice system.
In November last year,  Mill was sentenced to a minimum of two years in prison for violating a parole related to a 2008 gun and drug conviction. He was released on bail ten days ago after serving five months at a Pennsylvania State Correctional Institution in Montgomery County.
Mill said, "I actually know the errors of the criminal justice system personally because I've been tangled in the system since 18 years old." He spent time with men and women and watched their families torn apart because of drug addiction, mental illness and technical violations.
He added, I actually made a commitment to speaking for the voiceless." Furthermore, he said,"I'm greatly encouraged by the Governor's commitment to ensuring a fair sentencing process and ultimately ending the unjust cycle of incarceration in our state."
Meanwhile, Rubin said fixing the state's criminal justice system is personal for him. According to him, the system "cost my friend Meek Mill six months of his life." Reforms are also "extremely important" to ensure that people shouldn't go back to prison for technical probation violations.
"I commend Governor Wolf for listening to the public outcry around criminal justice reform and actively taking steps to shine a light on the issue," added Rubin.
Gov. Wolf's proposals to reform Pennsylvia criminal justice system
Gov. Wolf is pushing for a number of initiatives to improve Pennsylvania's criminal justice system including the following:
Justice Reinvestment Initiatives (JRI2), which seek to provide fair sentencing, increase parole supervision and use of community-based programs, and other reforms.
Bail and Pre-Trial Reforms to ensure that everyone has a right to a fair trial and risk-assessment tools are consistent statewide.
Post-Conviction Relief Act Expansion to reduce time sensitivity by increasing awareness of when a defendants' rights expire so they can make an informed plea decision.
Probation/Parole Revocation and Resentencing to create uniformity in probation revocation procedures and ensure a correlation between risk and probation lengths, resulting in better supervision.
Comprehensive Clean Slate Legislation currently under consideration in the General Assembly. This is the first step to establish a more comprehensive law to provide an opportunity for convicted persons to successfully reenter the community.
Indigent Defense is a critical part of the system to ensure the independence and quality of counsel under the Sixth Amendment.
Stepping Up Initiative aims to reduce the number of people with mental illness in county jails.