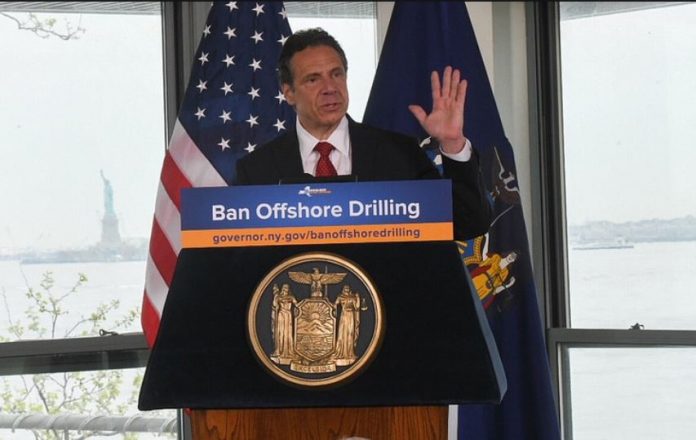 New York Governor Andrew Cuomo strengthened his initiatives to protect the state's coastal communities and marine economy from natural disasters.
On Thursday, the governor ordered the implementation of the Save Our Waters Program Bill to protect New York State waters from offshore drilling and exploration.
The program bill prohibits land leasing for exploration, development and production of oil and gas in the marine and coastal districts across the state.
It bans any new lease allowing the installation of infrastructure related to offshore drilling in federal waters located in the North Atlantic Planning Area.
In addition, the program bill prohibits transportation of crude oil within the passable waters in the North Atlantic Planning Area.
The Trump administration's plan to expand offshore drilling in the Atlantic and Pacific oceans prompted Gov. Cuomo's action.
In January, U.S. Secretary of Interior Ryan Zinke disclosed a plan to open over 90% of the total offshore acreage to drillers. Gov. Cuomo is a among the governors opposing the federal government's plan.
In March, Gov. Cuomo requested Sec. Zinke to exclude New York State from the offshore drilling program. He stated that the state stands to lose 320,000 jobs and billions of dollars from tourism and fishing industries. The state's ocean economy is generating $11 billion in wages and contributing $23 billion in gross domestic product.
Gov. Cuomo says offshore drilling puts coastal communities at risk
On Friday, the governor said, "The federal government's plan to open coastal waters to drilling shows an absolute disregard for science and history."
Additionally, Gov. Cuomo explained that offshore that offshore drilling endangers the state's coastal communities to possible oil spills and other disasters. Its also jeopardizes the health of the state's strong marine economy.
Furthermore, the governor promised that his administration will do everything in its power to prevent environmental disaster. The state government will"continue to protect offshore assets and boost efforts to support renewable energy production.
The State of New York recently invested $1.4 billion on various renewable energy projects. It is leading the nation towards clean energy resources.