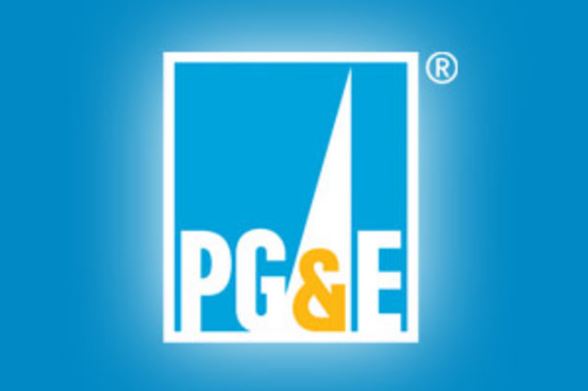 The shares of PG&E Corporation (NYSE:PCG) closed $52.50 each, down more than 1.06% on Monday.
Over the past 52 weeks, PCG stock dropped from $65.43 per share to as low as $50.64 per share.
PG&E Corporation is one of the largest utility companies in the United States. It is engaged in the sale and delivery of electricity and natural gas to customer in northern and central California. It is based in San Francisco with more than 20,000 employees.
The wildfires devastating California is the primary reason for the significant decline in PGE's stock price. In fact since October 9, the first trading day since the wildfires started in Northern California, the shares of the utility company fell from $68.65 to its current trading price of $52.50—a decline of $16.15 per share.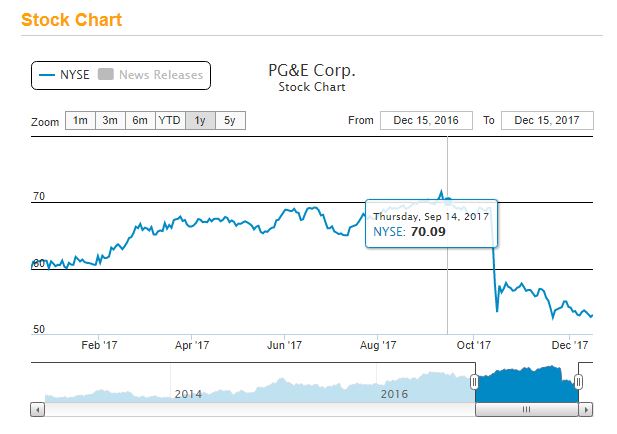 There had been reports that PG&E's downed power lines and exploding transformers caused the wildfires. Under California law, PG&E can be responsible for damages if proven that its equipment triggered a spark that became the largest and deadliest wildfires in the history of the state. The company is now facing lawsuit in connection with the wildfires.
Investors started selling their PCG shares due to concerns that it can be held liable for property damages. Take note that the utility company was found guilty of criminal negligence in a 1994 blaze in Sierra Nevada. It was also found guilty of safety violations in the deadly explosion in San Bruno in 2010. The courts ordered PG&E to pay $8.3 million and $1.6 billion in penalties, respectively for both incidents.
PG&E commits significant resources to remove dead trees
Last week, PG&E committed significant resources to removing dead trees throughout its service areas. The utility company already removed approximately 148,000 dead or dying trees that could threaten power lines this year. In addition, PG&E also trimmed or removed 1.4 trees under its routine vegetation management every year.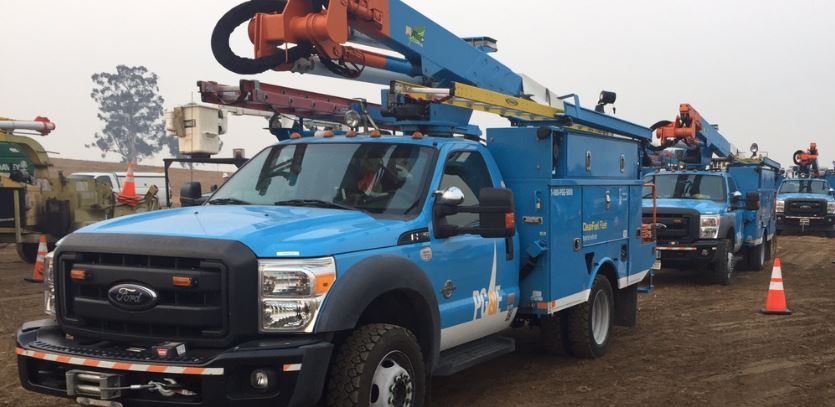 In a statement, PG&E President and COO Nick Stravropoulos said, "We have made significant progress to help reduce wildfire risk by removing dead and dying trees, and we're not slowing down. We will continue this critical safety work in 2018 and expand our fuel management efforts in high fire-risk areas."
Since 2013, PG&E already invested $1.6 billion in its vegetation management programs to reduce power outages and wildfire risks.
Additionally, it is offering no-cost dead tree clean-up assistance to customers to protect power lines in 11 counties.
PG&E Corporation (NYSE: PCG) stock rating
In a report released on Monday, investment analysts at Well Fargo downgraded their rating on shares of PG&E Corporation (NYSE:PCG) from Outperform to Market Perform.
On December 10, Mizuho Securities reconfirmed its Buy rating on PCG shares and set a price target of $78, a potential upside 45.9%. The equity research firm's analysts previously downgraded the stock to Neutral.
Among 14 analysts covering the stock of the utility company, nine recommended a Buy rating and 5 issued a Hold rating.