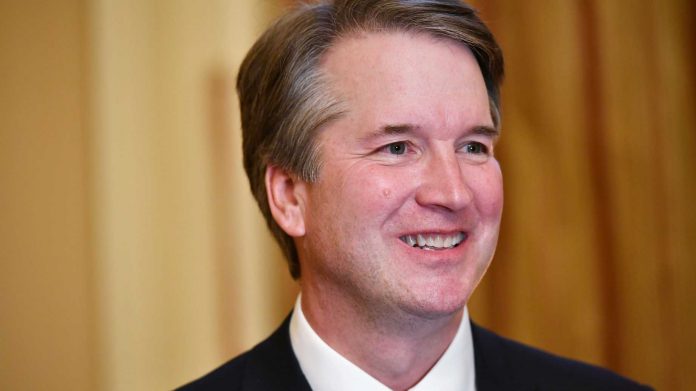 An AP News poll this week shows that many Americans have no strong opinion about whether Brett Kavanaugh should be the next Supreme Court Justice. They also don't care whether he's confirmed before or after the midterm elections. Others, however, have very strong opinions, and they're not all based on their opinion of Kavanaugh himself.
Supreme Court Justice Nominee Brett Kavanaugh
Kavanaugh was legal counsel and then staff secretary for President George W. Bush for about five years. He is currently on the U.S. Court of Appeals for the District of Columbia Circuit. In his 12 years on the bench for that court, he has ruled on over 300 cases. He also worked for Kenneth Starr during President Bill Clinton's presidency and helped write the report that called for his impeachment. As an appeals court judge, the Supreme Court has upheld his decisions on 13 cases and overturned his ruling only once.
His case history does not reveal him to hold strong political opinions. In the words of President Donald Trump, he is "an originalist."
What the Poll and the Public Says
The Associated Press-NORC Center for Public Affairs Research asked 1,055 American adults of various backgrounds what they thought about Kavanaugh.
Forty-six percent of respondents didn't have a strong opinion at this time. Bob Tomlinson, 61, of Three Rivers, Michigan, for example, said he wanted more information about the nominee. He's concerned about Kavanaugh's opinion on executive authority. In specific, he wants to know whether Kavanaugh believes that authorities can indict a president while he or she is in office.
Twenty-five percent of people support Kavanugh's nomination, while 29 percent would rather see him voted down.
Martin Stefan, 73, of Carson City, Nevada, supports Kavanaugh. He said, "From what I've studied, he'd be a great candidate, No. 1, and the other reason is, I don't trust the Democrats."
Anna Horton, age 50, of Fountain, Colorado holds the opposite view. She says she opposes Kavanaugh mostly because Trump nominated him. "I just have a lot of mistrust for this administration," she said.
The next question was whether the Senate should vote to confirm Kavanaugh as justice before or after the midterm elections. Fifty-one percent of people said the Senate should vote before the election. Forty-eight percent prefer that lawmakers wait until new senators take their posts.
To break the numbers down further, 78 percent of Republicans want to see Kavanaugh confirmed before the midterms. Fifty-six percent of Republicans support his confirmation. Four percent are opposed. The remainder is among those with no strong opinion.
Sixty-nine percent of Democrats want to wait until after the midterms to vote on Kavanaugh. Fifty-four percent say they are against Kavanaugh's confirmation. Five percent support him. The rest have not decided.