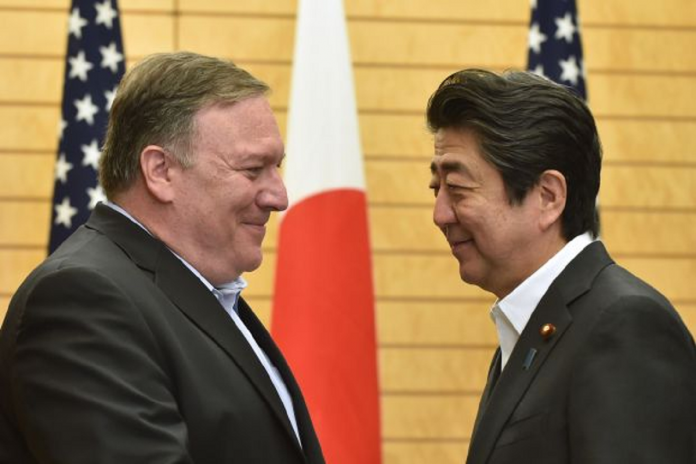 Mike Pompeo, the U.S. Secretary of State said Saturday that he would be working with South Korea and Japan as he negotiates with North Korea to give up its nuclear weapons. He will be visiting North Korea on Sunday.
Deadlocked Negotiations with North Korea
Pompeo is on his way to North Korea. It has been nearly four months since President Donald Trump met with North Korean President Kim Jong Un. At their summit in Singapore, Un agreed to rid North Korea of all nuclear weapons and testing. The country has made little progress in that direction, however. In fact, Trump canceled Pompeo's last planned trip to North Korea, seeing it as a waste of time.
The hang-up is a disagreement on which country will meet the other's demands first. North Korea wants the U.S. to lift sanctions against the country. The U.S. insists that it won't do that until North Korea's denuclearization is complete.
Pompeo said his goal this trip is to "make sure that we understand what each side is truly trying to achieve … and how we can deliver against the commitments that were made" at Trump and Un's first meeting.
Pompeo is also hoping to arrange for another summit between Trump and Un.
Meeting with Japanese Prime Minister
Before landing in Pyongyang, however, Pompeo visited Japan. Japanese officials say they worry that an American accord with North Korea could upset the security of their region.
Pompeo met with Shinzo Abe, the Prime Minister of Japan. He said he wanted to meet the Japanese head of state "so we have a fully coordinated and unified view" of relations with North Korea. He also promised to speak to North Korea about Japanese citizens abducted by North Korea.
Pompeo told Abe, "It is important for us to hear from you as I travel to Pyongyang to make sure that we are fully in sync with respect to missile programs, (chemical and biological weapons) programs. We will bring up the issue of the abductees as well and then we will share with you how we hope to proceed when we are in Pyongyang tomorrow."
Abe was insistent that his country's alliance with the U.S. is "more robust than ever." He stressed that he wants "thorough coordination" with the U.S. on dealings with North Korea.
After his visit to North Korea, Pompeo will stop in South Korea and then China.