The classic photo of a green meteor falling from the sky and crashing into the clouds of southern India has not been duplicated since. One man with a camera photographed a miracle, Prasenjeet Yadav. 
Prasenjeet Yadav is a renowned National Geographic photographer.  He was one of the Geographic Explorer grant recipients in 2015 and his mission was to photograph the "sky islands."  He succeeded beyond his wildest dreams.
Asteroids and meteors from space to Earth
In 2020, there are thousands of asteroids and meteors orbiting the Earth. NASA's Near-Earth Object Observations Program in Pasadena, California is currently tracking 19,000 of them. Only a few will reach Earth's atmosphere. And most of these "falling objects" are so small that they never reach the surface. 
It's difficult to see most Unidentified Aerial Phenomena (UAP)  in the daylight but it's different at night. They sometimes appear as lights in the sky. Even then, it usually takes an advanced technology telescope like the Hubble Space Telescope to get a clear view.
Prasenjeet Yadav: Backstory to one man and a camera
In 2015, Yadav drove to a vantage point of the "sky islands." The Western Ghats, also known as Sahyadri is a series of mountaintops that rise above the clouds and in the valley sprawls the town of  Mettupalayam, India.
Just hours before sunrise Yadav programmed his Nikon D600 to shoot time-lapse photographs every 10 seconds until 4:30 am. Then he went to sleep.
Yadav missed the bright green meteor explosion but his camera captured it, all its brilliance. 
 Fast Forward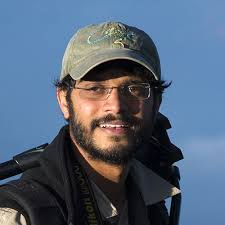 Yadav has a master's degree in molecular biology and did research in molecular ecology for several years at National Centre for Biological Sciences in Bangalore, India. He started out as a scientist but became a storyteller and an adventurer.
According to his website "He now combines his experience in research with his photography skills to popularize ecological and conservation sciences in the wider society. Prasenjeet is one of the very few photographers who integrates science deeply into his photo stories."
"He chooses ignored subjects, landscapes, and species and finds ways to develop engaging and accessible photos. For every story, he collaborates with researchers, managers, policymakers as well as conservationists."
He is a founding member of 'Shoot for Science' which is an initiative to train scientists in science communication. 
In 2017, Prasenjeet Yadav gave a talk titled "Pictures to save biodiversity." He recounted his still world-famous photo.
This image of the green meteor flashing across the sky islands really is unique, as far as is known, there is no other image of a green meteorite in freefall. 
"I was there, and that's what photography is all about—being there in the right place at the right time," Yadav said. It shifted his understanding of the elements of a  photograph. "Every photograph has two elements, a memory, and a dream. And a memorable photograph is one where you can't tell the difference." 
—————————————-
Have a story you want USA Herald to cover? Submit a tip here and if we think it's newsworthy, we'll follow up on it.
Want to contribute a story? We also accept article submissions – check out our writer's guidelines here.