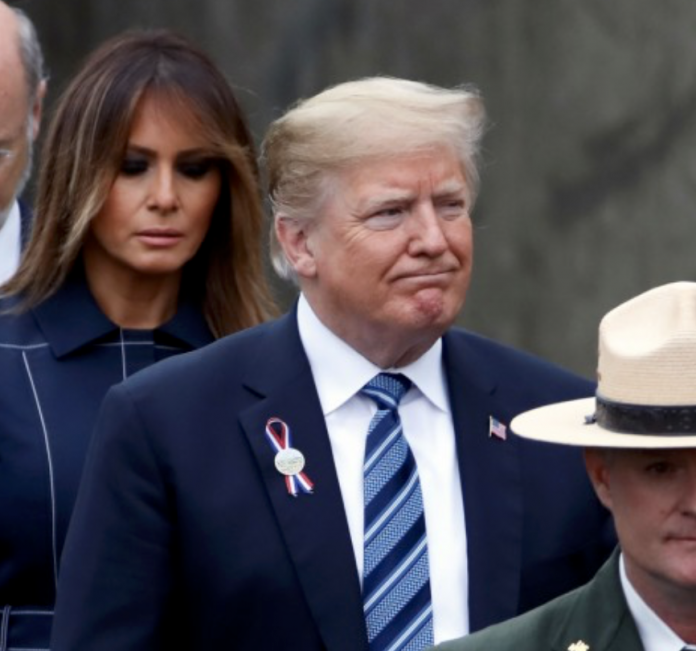 On Tuesday, President Donald Trump paid his respects to the victims of the terrorist attacks on September 11, 2001, reports Fox News.
An Overview of President Trump's Tribute
The president delivered tributary remarks in Shanksville, Pennsylvania during The Flight 93 Memorial ceremony. He specifically noted the crew, staff and passengers on Flight 93 who selflessly prevented greater carnage which would have ensued as a result of terrorists who hijacked the plane.
"On September 11, 2001, a band of brave patriots turned the tide on our nation's enemies and joined the immortal ranks of American heroes," Trump said. "At this memorial, on this sacred earth, in the field beyond this wall, and in the skies above our heads, we remember the moment when America fought back."
Trump also acknowledged the relatives of individuals who lost their lives on Flight 93. The president expressed America's honor for the fallen heroes and declared that his administration will "do whatever it takes to keep America safe."
Finally, Trump professed his determination to halt future acts of terrorism in the United States.
"As commander-in-chief, I will always do everything in my power to prevent terrorists from striking American soil," he said. "Seventeen years ago, 40 incredible men and women showed the whole world that no force on earth will ever conquer the American spirit. We treasure their memory and legacy."
More on 9/11
Political leaders and figures on both sides of the aisle paid their respects on the 17th anniversary of 9/11. Similarly to Trump, Vice President Mike Pence also paid tribute to the fallen heroes and individuals who lost their lives on September 11, 2001.
During statements at the Pentagon, Pence noted the importance of remaining vigilant as a nation. The vice president moreover stated that "future generations" must understand the story and reasons behind 9/11.
Yesterday, the president signed a proclamation entitled "Patriot Day 2018."
Patriot Day 2018 pays tribute to "the souls we lost."
The proclamation also mentions "all of the patriots who have sacrificed their lives in defense of freedom."
Similarly to members of the Trump administration, many Americans acknowledged the anniversary of 9/11. This is particularly visible on social media; images of American flags, the Twin Towers, etc with "Never Forget" captions were posted on Facebook, Twitter and Instagram.
Trump also acknowledged the events of 9/11 via Twitter.
#NeverForget #September11th pic.twitter.com/POd8D1WfBa

— Donald J. Trump (@realDonaldTrump) September 12, 2018
.@realDonaldTrump and @FLOTUS visited the Flight 93 National Memorial in Pennsylvania this morning to honor the memories of nearly 3,000 precious lives lost on September 11, 2001, as well as every hero who has given their life since that day to protect our safety and freedom. pic.twitter.com/RKwcvO7vh9

— The White House (@WhiteHouse) September 11, 2018
17 years since September 11th!

— Donald J. Trump (@realDonaldTrump) September 11, 2018
#NeverForget #September11th https://t.co/l8WZer3UOL

— Donald J. Trump (@realDonaldTrump) September 11, 2018