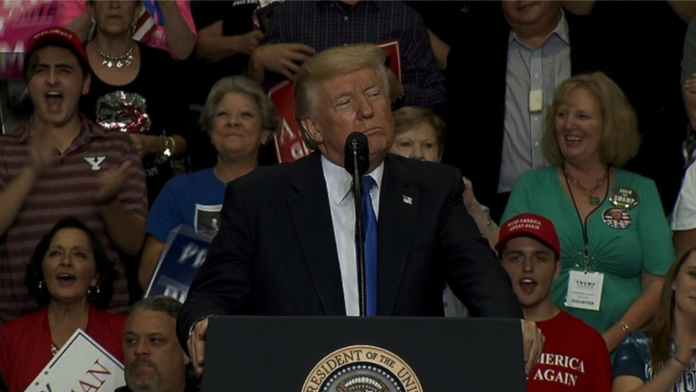 Following Republicans' victory in Congress, President Trump paid his respects to the nation, by traveling to Ohio and delivering a riveting, upbeat speech to staunch supporters. According to the Washington Post, not only did Mr. Trump thank the people of Ohio for helping him win the 2016 Presidential election, but he also paid tribute to our fine, brave veterans.
President Trump's true and genuine love for the United States has always been evident. Earlier today, he thanked veterans for the many sacrifices they have made to ensure the prosperity and autonomy of America.
Reports from WFMJ affirm veterans' belief in the President to engender much needed changes in the Department of Veteran's Affairs. Unfortunately, VA workers have provided horrific healthcare to veterans who fought, sacrificed, and lost limbs to protect the freedoms and liberties of America.
"That's the biggest factor in all of our minds here is health care as we get older. He's only been in office for six months, you don't just go in and change everything overnight," stated Valley hero Robert Whinnery.
Similarly to veterans, other supporters of President Trump were pleased to hear him speak in Youngstown, Ohio. During his epic speech, he brought attention to the progress made in office, including but not limited to fighting corruption in Washington DC and working to build a wall along the Southern border to halt illegal immigration, as reported by CBS News. The President was joined in Ohio by First Lady Melania Trump, his son Eric Trump, and daughter-in-law Lara Trump, who stated that she knew her father-in-law would win the 2016 Presidential election.
Much to the media's discontent, President Trump spoke out against fake news and the manner in which they frequently degrade him. "I watch the media as they say 'well, he just had some fun during the campaign on the wall.' That wasn't fun folks."
Today's rally in Ohio is one of many that President Trump has hosted since winning the election. Supporters in Kentucky, Tennessee, Iowa, and Pennsylvania have also been afforded the opportunity to hear him speak. Mainstream media pundits are highly critical of the President's rallies, but apparently the American people do not mind. His determination to connect with supporters and salute the sacrifices of our veterans does not go unnoticed. For the first time in years, America elected a leader who is not beholden to any special interest groups; President Trump's only agenda is to make America great again.