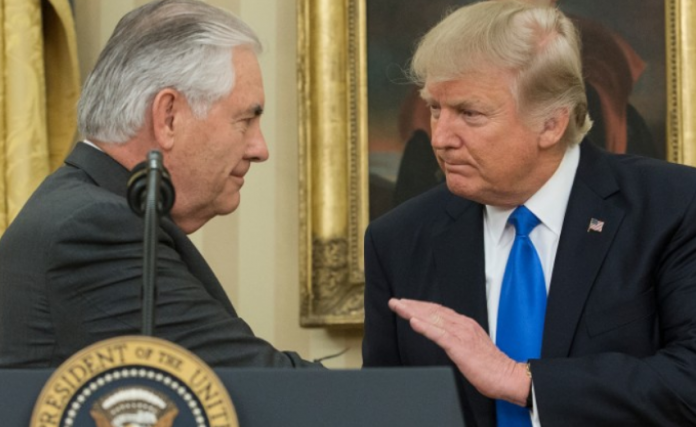 President Trump has denied media reports that Secretary of State Rex Tillerson will be leaving the White House staff team, as reported by Breitbart News.
More Fake News?
Mere hours ago, President Trump tweeted out the following message regarding speculations that Tillerson is being forced out of the White House:
The media has been speculating that I fired Rex Tillerson or that he would be leaving soon – FAKE NEWS! He's not leaving and while we disagree on certain subjects, (I call the final shots) we work well together and America is highly respected again!https://t.co/FrqiPLFJ1E

— Donald J. Trump (@realDonaldTrump) December 1, 2017
The President also posted the same message on his Instagram account:
Within the past week, the media has asserted that Chief of Staff John Kelly is searching for Tillerson's replacement. Many Trump critics have also cited the aforementioned claim as further evidence of discord within the Trump administration. However, as stated by President Trump, Secretary of State Tillerson will not be leaving.
Moreover, President Trump and various media outlets have repeatedly feuded over allegations of fake news. While the networks claim they report the facts, President Trump and many of his supporters feel differently. Thus far, the outlets alleging Tillerson's exit have yet to issue an apology for their inaccurate reports.
Feedback from the American People
While many of the President's critics slammed him for his latest "Fake News" tweet, his supporters championed behind him, thus censuring the mainstream media. This is especially visible on Twitter: