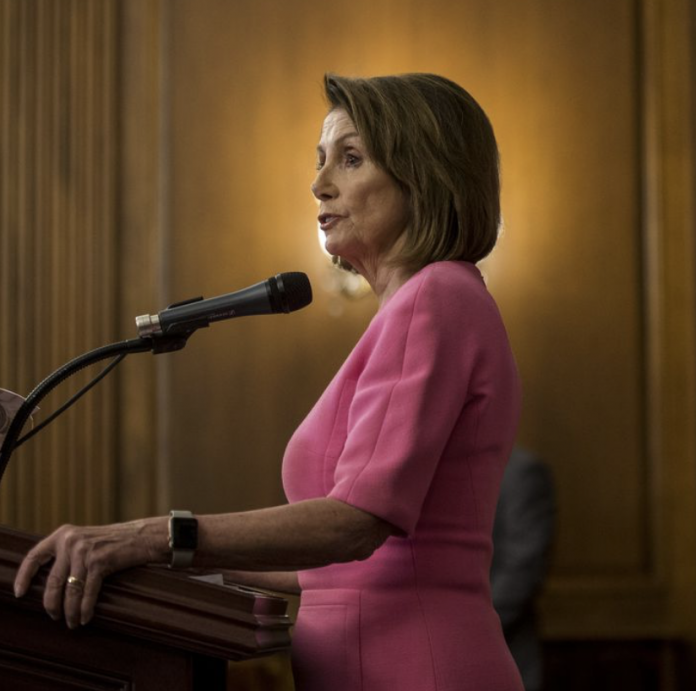 On Saturday, President Donald Trump endorsed Nancy Pelosi for Speaker of the House, reports The Hill.
An Overview of the President's Endorsement
President Trump's endorsement of Pelosi came via Twitter. He not only stated that he could help Pelosi obtain the mandated votes, but Trump also stated that Pelosi deserves the position.
I can get Nancy Pelosi as many votes as she wants in order for her to be Speaker of the House. She deserves this victory, she has earned it – but there are those in her party who are trying to take it away. She will win! @TomReedCongress

— Donald J. Trump (@realDonaldTrump) November 17, 2018
Due to the results of this month's midterm elections, Democrats will regain control of the House of Representatives in January 2019. At this time, Pelosi is working to gain the necessary votes in order to succeed current House Speaker Paul Ryan.
More on the Possibility of 'Speaker Pelosi'
Nancy Pelosi previously worked as Speaker of the House between 2007 and 2011. During that time, she made history as the first woman to ever serve as House Speaker. Pelosi has received support from various Democrats who will assume their seats in the House of Representatives in 2019. However, not all Democrats believe that Pelosi is the best option for House Speaker. Some Democrats maintain that their party is long overdue for new, fresher leadership.
President Trump's endorsement of Pelosi has raised several eyebrows. Trump and Pelosi have previously sparred with one another regarding policy matters. Therefore, not many Americans would view the pair as political allies.
Despite the president's endorsement, Pelosi is not expected to win overwhelming support from Republicans. Throughout the time leading up to the midterm elections, Republicans ongoingly ran negative ads against Pelosi. Members of the GOP also declared that Pelosi lacked the fitness to serve as House Speaker.
Saturday's endorsement is not the president's first declaration of support for Nancy Pelosi. Earlier this month, Trump also tweeted that Pelosi "deserves" to serve as Speaker of the House.
In all fairness, Nancy Pelosi deserves to be chosen Speaker of the House by the Democrats. If they give her a hard time, perhaps we will add some Republican votes. She has earned this great honor!

— Donald J. Trump (@realDonaldTrump) November 7, 2018
What Do Americans Think of President Trump's Endorsement?
Readers of The Hill weighed in with their thoughts regarding the president's endorsement of Nancy Pelosi.
"He's trying to sabotage her by doing this."
"Clueless liberals don't know what to do. They hate Trump with a passion and now they are not sure if they should hate Pelosi too because Trump supports her."
"If Nancy works with Trump on anything, the left will burn her home down…"