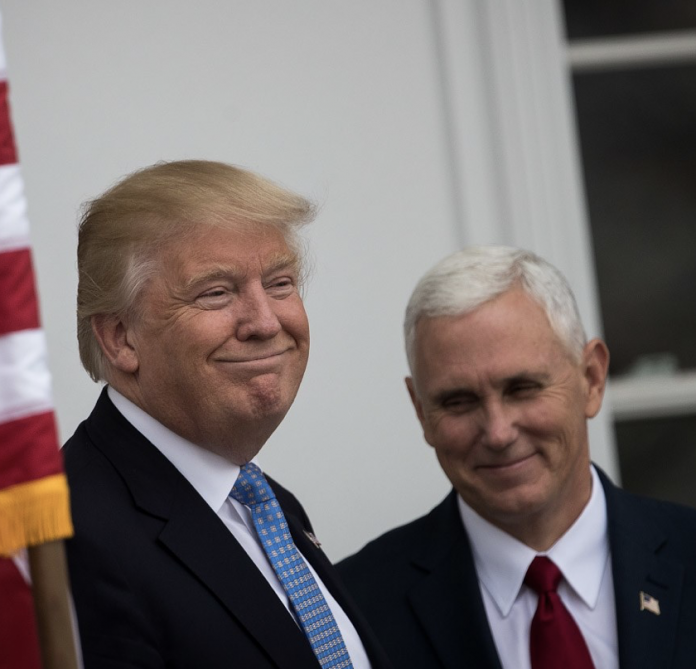 On Saturday, President Donald Trump affirmed that he remains sure of Vice President Pence's loyalty towards him, reports The Hill.
A Look at President Trump's Statements
President Trump expressed his certainty in Pence after the publication of a New York Times piece which alleged that Trump questioned his staffers about Pence's loyalty. Since the release of the article, the president maintains that such allegations are fictitious and "phony."
While departing from the White House, Trump gave the following statements to the press:
"No, I don't question his loyalty at all. He is 100 percent loyal. It was a phony story, a typical New York Times phony story. He is a trooper. I could not be happier."
Vice President Pence has also denied the assertions of the New York Times. Pence maintains that he and Trump share a "very strong" and "very close" relationship. The vice president furthermore claimed that he and Trump "had a good laugh" over the matter.
Finally, the president took to Twitter on Saturday to blast the report. He also questioned why the Times failed to seek a direct quote from him.
….I can't imagine any President having a better or closer relationship with their Vice President then the two of us. Just more FAKE NEWS, the Enemy of the People!

— Donald J. Trump (@realDonaldTrump) November 17, 2018
Questions of Loyalty in the Trump Administration
The New York Times' latest piece about Trump and Pence is not the first time that questions of loyalty within the White House have surfaced. In September, an anonymous member of the Trump administration allegedly wrote an anti-Trump piece for the Times. In the article, the official maintained that the president served as a danger to America. The unknown individual also claimed that various members of the Trump administration are actively working against the president.
News of the piece quickly made headlines. Americans disputed about who may have authored the article. Furthermore, people questioned as to whether or not Trump could truly trust the members of his administration. Top officials, including Vice President Pence, rapidly came out and stated that they did not write the New York Times article.
Finally, readers of The Hill weighed in with their thoughts regarding the New York Times and loyalty within the Trump White House.
"Liberals are disgusting, shameless LIARS."
"The NYT report is just another transparent attempt to undermine Trump. Yawn. The left will believe anything, apparently."
"It's always the most loyal ones that are responsible for your downfall. Ask Caligula's bodyguards."