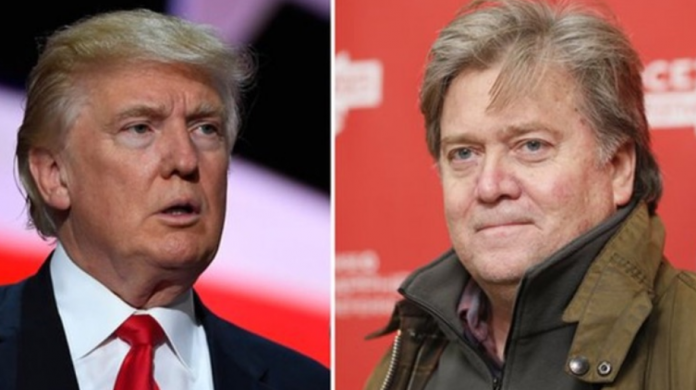 Former White House chief strategist Steve Bannon has landed in some very hot water after his comments regarding members of the First Family, as noted by The Guardian.
A Full Analysis of Trump vs. Bannon
Bannon decided to use Michael Wolff's upcoming book 'Fire and Fury: Inside the Trump White House' as a platform to opine his thoughts about Donald Trump Jr., Paul Manafort, and Jared Kushner. Excerpts read as follows:
"The three senior guys in the campaign thought it was a good idea to meet with a foreign government inside Trump Tower in the conference room on the 25th floor with no lawyers. Even if you thought that this was not treasonous, or unpatriotic, or bad sh*t, and I happen to think it's all of that, you should have called the FBI immediately."
However, Bannon did not stop there and called Ivanka Trump as "dumb as a brick."
Needless to say, President Trump was not at all pleased with Bannon's commentary and issued a blistering public statement. Notable excerpts read as follows:
"Steve Bannon has nothing to do with me or my Presidency. When he was fired, he not only lost his job, he lost his mind."
"Now that he is on his own, Steve is learning that winning isn't as easy as I make it look."
"Steve pretends to be at war with the media, which he calls the opposition party, yet he spent his time at the White House leaking false information to the media to make himself seem far more important than he was."
America's Response to Bannon's Fallout With President Trump
Steve Bannon's feud with President Trump and the First Family is currently trending both in politics and on social media. While many critics of the President have not hesitated to side with Bannon, despite their prior condemnation of the former White House chief strategist, most Trump supporters have taken a different approach.
Bannon has faced accusations of being a opportunist. Many Americans also questioned the reasoning behind his remarks about the President's family and closest advisers. The President's eldest son, Donald Trump Jr. weighed in on Twitter along with many other Trump supporters:
Steve had the honor of working in the White House & serving the country. Unfortunately, he squandered that privilege & turned that opportunity into a nightmare of backstabbing, harassing, leaking, lying & undermining the President. Steve is not a strategist, he is an opportunist

— Donald Trump Jr. (@DonaldJTrumpJr) January 3, 2018
Wow, Just looked at the comments section on Breitbart. Wow. When Bannon has lost Breitbart, he's left with . . . umm, nothing.

— Donald Trump Jr. (@DonaldJTrumpJr) January 3, 2018
So you were an ally and friend to President Trump, yet you somehow think that blasting and attacking his family after the fact is a good thing, whilst you claim to be championing for his Presidency. Do you really think he's gonna chose you over them? #SteveBannon

— Gabrielle Seunagal (@ClassySnobbb) January 4, 2018
My only loyalty is to President @realDonaldTrump. Mr. Bannon made a huge miscalculation attacking the President and his family.

Get on the team, or get out.#MAGA 🇺🇸 https://t.co/PLqbpX7t2u

— Harlan Z. Hill (@Harlan) January 3, 2018
When Steve Bannon helped Trump, liberals hated him. Now he's their spokesman

— Jacob Wohl (@JacobAWohl) January 4, 2018