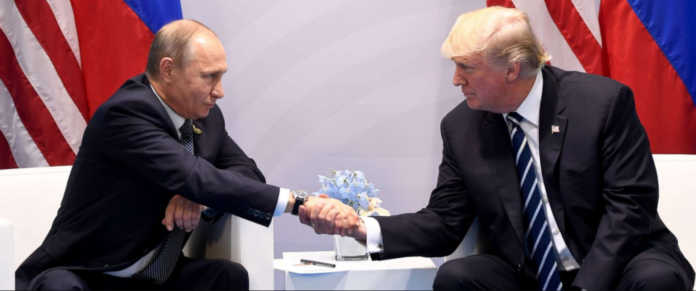 Over the past few months, the mainstream media has gained infamy as a result of their unnatural fascination with the "relationship" between President Donald Trump and Russian President Vladimir Putin. Earlier today, these two men met for the first time, much to the media's intrigue. As the President's eldest son, Donald Trump Jr. stated on Twitter, the sounds of cameras clicking away nearly drowned out verbal exchanges between the two world leaders.
Reports from the New York Times, affirmed that President Trump and Russian President Putin would be exploring the mutual use of safe zones as a strategy to form an alliance with Moscow.
When the two gentlemen finally met earlier today, the media fell into an utter frenzy. Their handshake was photographed and uploaded to the internet within minutes. Mr. Trump and Mr. Putin met at the G-20 Summit in Germany for approximately two hours.
President Trump gave the following statement earlier today: "President Putin and I have been discussing various things, and I think it's going very well. We look forward to a lot of very positive happenings for Russia and for the United States, and for everyone concerned."
Likewise, Mr. Putin expressed his contentment regarding today's meeting with President Trump. He noted that although they had spoken on the phone with each other, that was not enough and he looks forward to positive results following the gathering.
One of the most memorable takeaways from the Trump/Putin meeting comes in the form of a mutual agreement regarding Syria. Based on reports from CNN, the two world leaders agreed to "curb violence in Syria" by finding desireable ways to join forces.
Secretary of State Rex Tillerson made the following announcement:
"This is our first indication of the US and Russia being able to work together in Syria. The leaders had a "lengthy discussion of other areas in Syria where we can work together."
Additionally, both Mr. Trump and Mr. Putin agreed to move past the silly allegations asserting Russia's interference in the 2016 US Presidential election. Both Presidents are focused on moving forward. Hopefully, the people of this nation will follow suit, sooner rather than later.
Despite the incessant media attention and wild conspiracy theories regarding President Trump and Russia President Putin, their ability to get along well is in the best interest of both nations. Foreign allies are generally favorable to foreign enemies. Hopefully, both of these reputable leaders will accomplish great feats that will make our world a safer and better place.