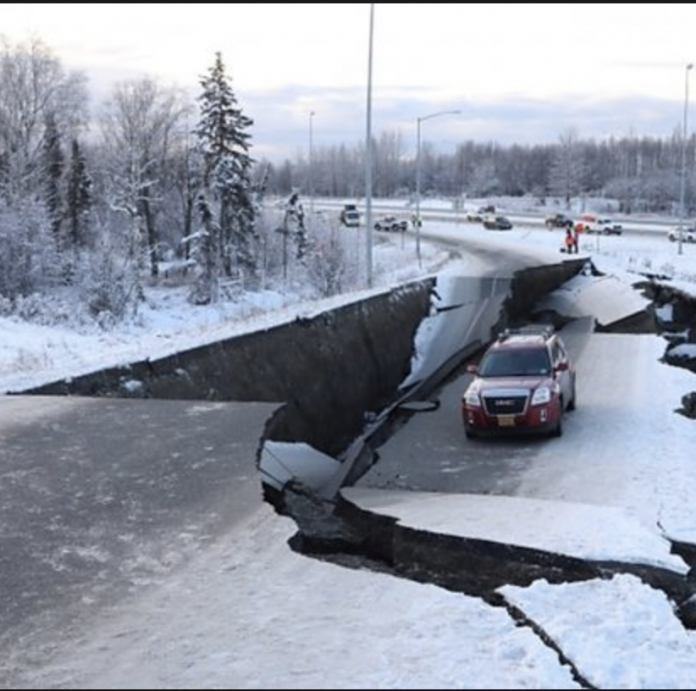 On Friday, President Donald Trump sent out his blessings to Alaskans who experienced multiple earthquakes earlier that morning.
A Look at the President's Public Statements
The commander-in-chief posted the following tweet regarding the situation in Alaska:
To the Great people of Alaska. You have been hit hard by a "big one." Please follow the directions of the highly trained professionals who are there to help you. Your Federal Government will spare no expense. God Bless you ALL!

— Donald J. Trump (@realDonaldTrump) November 30, 2018
Anchorage, Alaska bore the brunt of an extreme earthquake with a magnitude of 7.0. Damages and aftermath of this devastating occurrence are still being monitored and reported on.
More Updates on the Alaska Earthquake
At this time, Anchorage has experienced notable impacts of the earthquake, particularly since the disaster struck upon the outskirts of the city. Prior to the occurrence of the earthquake, Alaska received warnings of potential tsunamis, although officials later retracted these alerts.
Thus far, individuals near Anchorage have experienced harmed infrastructure, disruptions at local TV stations, damages in buildings, and probable likelihoods of area aftershocks.
Additional undesirable outcomes of the Alaska earthquakes include financial damages. CNN projects that Alaska may experience millions or billions of dollars in financial setbacks.
Following the earthquakes outside of Anchorage, the city's airport temporarily shut down. However, as of late Friday afternoon, the airport's operations commenced; although passengers of certain flights are almost guaranteed to experience certain delays.
Individuals Impacted by the Anchorage Earthquake
Residents of Anchorage, Alaska have publically spoken out about the ordeal. Melissa Lohr informed CNN that Friday marked her first experience of ever undergoing an earthquake:
"It felt like my car was uncontrollably sliding left and right. I just didn't understand because it was going perfectly fine up until then. It felt like the ground was gonna open up underneath you."
At this time, Lohr remains trapped inside of her home. The bridge and gates each face obstructions due to sinkholes and other damages from the earthquakes.
Similarly to Lohr, former Alaska Governor Sarah Palin also spoke out regarding her experiences with the earthquakes. Palin took to Twitter, stating that her family is "intact," while her home is not. The former governor of Alaska also expressed condolences to others who are experiencing similar outcomes.
🙏🏼 for Alaska. Our family is intact – house is not… I imagine that's the case for many, many others. So thankful to be safe; praying for our state following the earthquake.

— Sarah Palin (@SarahPalinUSA) November 30, 2018
Earthquakes, like other natural disasters, are infamous for the havoc they wreak upon individuals in affected areas. Further updates regarding the Anchorage earthquakes will follow as new developments arise.