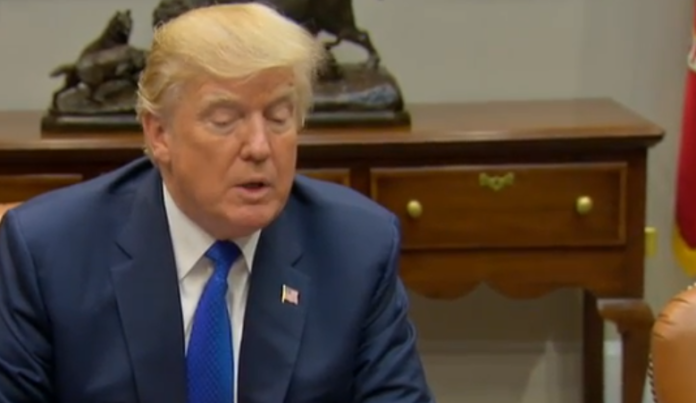 On Tuesday, President Trump slammed Democratic leaders Nancy Pelosi and Chuck Schumer fortheir refusal to attend a planned meeting, as reported by Fox News.
What Happened?
Nancy Pelosi and Chuck Schumer were scheduled to attend a government meeting with President Trump, Paul Ryan, and Mitch McConnell. The aforementioned meeting would have centered around a new and improved budget, immigration reform, and more. However, shortly after 9:00 AM, President Trump tweeted out the following message:
Meeting with "Chuck and Nancy" today about keeping government open and working. Problem is they want illegal immigrants flooding into our Country unchecked, are weak on Crime and want to substantially RAISE Taxes. I don't see a deal!

— Donald J. Trump (@realDonaldTrump) November 28, 2017
This tweet offended "Chuck and Nancy" so much that they opted out of attending the meeting. This prompted President Trump to slam the two Democratic leaders as "all talk, no action."
The President also made the following remarks to reporters earlier:
"Now, it's even worse. Now it's not even talk. So they're not showing up for the meeting."
Responses to President Trump's Criticism and Thoughts from the American People
Following the President's condemnation of Pelosi and Schumer's absence, Pelosi tweeted out this message:
.@realDonaldTrump now knows that his verbal abuse will no longer be tolerated. His empty chair photo opp showed he's more interested in stunts than in addressing the needs of the American people. Poor Ryan and McConnell relegated to props. Sad!

— Nancy Pelosi (@NancyPelosi) November 28, 2017
Schumer also posted the following tweets about the President:
We don't have any time to waste in addressing the issues that confront us, so we're going to continue to negotiate with Republican leaders who may be interested in reaching a bipartisan agreement.

— Chuck Schumer (@SenSchumer) November 28, 2017
However, despite Pelosi and Schumer's justifications, many Americans believed not showing up to the meeting was inappropriate. They expressed this viewpoint in tweets such as the ones which read as follows:
When will you ever do something for the American People ? and stop obstructing President @realDonaldTrump – Every Day. All you and Chuck S. do is try to stop anything The GOP tries to get done. Stop your BS and Do something for WE the people for a change. pic.twitter.com/qu1XJbF3fs

— Lloyd Stowe (@sailor7) November 28, 2017
Ummm… didn't @POTUS negotiate w/you the last time you went into talks with him? You cant negotiate if you aren't at the table. https://t.co/Tnrux25U64

— Former Democrat (@Old_stressed) November 28, 2017
Like President Trump, McConnell and Ryan also slammed Pelosi and Schumer for their failure to attend the meeting with the following statement:
"We have important work to do, and Democratic leaders have continually found new excuses not to meet with the administration to discuss these issues. If Democrats want to reach an agreement, they will be there."
So far, there is no word as to whether any parties involved shall consider rescheduling the meeting which would have taken place on Tuesday.
Congressional leaders have until December 8, 2017 to come up with a plan to prevent a government shutdown.