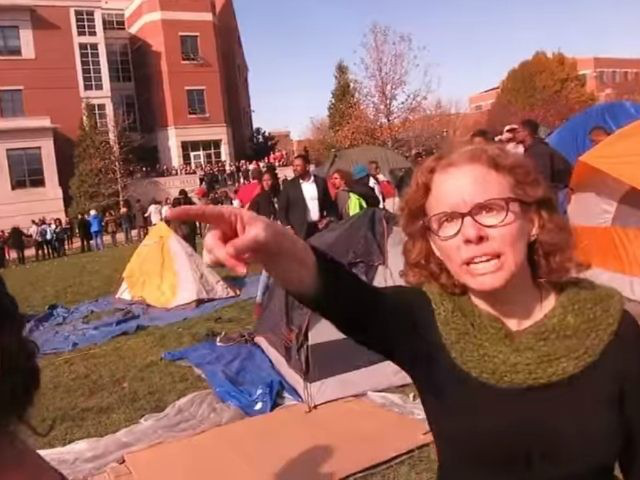 The United States Constitution includes words about the freedom of the press in the First Amendment. As with all the amendments, there are frequent questions about their interpretations. In late 2015, Melissa Click, an assistant professor of communications at the University of Missouri, attempted to block the press from covering a protest on campus. Her actions and her subsequent firing raises questions about the First Amendment and how it is interpreted on college campuses, especially regarding student-led events. Many schools, including Indiana University and its IUPUI affiliates do not have policies about excluding or admitting the press to cover student events.
The issue in the IUPUI system is that public college campuses are just that – public spaces. There are other types of spaces in public colleges, traditional and limited public spaces and there are also nonpublic spaces like concert halls and power plants. Another problem with blocking the freedom of the press to attend student-run events includes the possibility of blocking the freedom of students to assemble. The Indiana Constitution has stronger protections for the press and for those who want to assemble than the federal Constitution has. Due to the issues involved in maintaining the First Amendment, college campuses, like IUPUI need to develop clear policies that protect the First Amendment rights of the press, students, and professionals on campus.
While crafting a First Amendment policy that is constitutional and understandable, it is important to decide where the media can go and where students can go. Using the events that happened at the University of Missouri with Professor Click, it is vital that the policy should divide areas of IUPUI campuses into traditionally open, limited, and nonpublic spaces. With the fallout of the Click firing, the University of Missouri is facing a 5% decline in enrollment which has created a fiscal shortfall of $32 million. IUPUI needs to protect itself from problems like these by deciding if to create "safe zones" where students can assemble without the intrusion of the media. And, if IUPUI does do this, would it be constitutionally permitted. Evaluating the legality of media-free safe zone needs to be done using the Indiana Constitution because the safe zones would be on state property.
Many colleges have established safe zones, which are often rooms where clubs can meet, so that students can meet without having to justify their beliefs (usually students who identify with LBGBTQ, veterans, or unique groups). But, at the University of Missouri, the space where Click tried to block journalists was in a public outdoor space. A student journalist was attempting to enter the space to question students who were protesting there. Professor Click and the student journalist entered a shoving match, which is why she was fired and charges were pressed against her.
The Indiana Constitution is even more protective of free speech than the federal Constitution, allowing tort cases regarding interference with free speech in public spaces. And, the Indiana Constitution distinguishes between public, limited public, and designated public spaces as does the federal Constitution. Fortunately, for creating a policy, a federal court has already established two types of spaces: public and limited public. In the IUPUI system, public spaces have already been designated as places that are necessarily and public, like sidewalks, streets, and similar common park-like areas. A policy for safe spaces would need to decide what to do with the rest of the spaces. Non-public spaces would be those that the government has not opened for members of the public, like math class during class or a concert hall during a concert.
At IUPUI, parks, sidewalks, streets, and other common spaces would be considered public, but all other areas could be regulated in a reasonable way. Finally, students as well as third parties who are not university students, staff or faculty apparently may use the open or public fora areas, but may be subject to time, place and manner permitting restrictions. Outsiders to the college may be barred entirely from free speech/expressive use of the limited public spaces. In short, when removing the public spaces, the rest of an IUPUI campus is apparently subject only to reasonableness scrutiny of its free speech restrictions and is either a limited or nonpublic space.
No matter what happens on IUPUI campuses, it is nearly impossible to prohibit journalists from any outdoor event, meeting, or protect. The difficulty comes with the fact that the term "journalist" has a rather loose definition with the advent of blogging. But, in a private meeting in a limited public space like a classroom, journalists could be blocked from entering. Considering that colleges can limit what happens in the nonpublic spaces, it makes sense that journalists cannot enter these spaces as freely as they can in open spaces. For example, Republicans are not allowed to enter a meeting where Democrats are planning election strategies for campus events. So, journalists cannot enter those spaces, either.
Another consideration for the policy is how politically protected speech in politically protected areas can be moved to a restricted area. But this process does not apply to small protests that happen quickly. Of course, colleges must have non-discrimination policies, but they also should avoid creating policies that allow "all comers" to join groups – especially regarding groups like fraternities, sororities, and glee clubs.
Therefore, if the University of Missouri had a policy regarding safe spaces and their employees were trained to understand and follow it, the issue with Professor Clark could have been avoided. She would have known that assaulting a student journalist is not protected free speech, especially when that assault occurs in a traditional public space. If the University of Missouri had a safe space policy, then the students could have selected a nonpublic or limited public space to hold their event so they would have been protected from journalists. In a public space, the police could have helped Professor Click.
Because of the incident at the University of Missouri, the IUPUI system should be proactive and create a policy to protect itself. The policy could look like this:
1.) Public or Traditional Open Fora: IUPUI is a state university with limited resources that are in great demand.  There are two forms of fora at IUPUI, limited public fora and traditional public fora.  Traditional public fora include park areas, plazas, sidewalks, and streets of the campus that comprise the irreducible public forums of the campus. The limited public fora in turn may be designated public fora for one specific purpose, or may be limited public fora which are available by permit or reservation through the process outlined below for either student or nonstudent groups.
The IUPUI Rule regarding these traditional public fora is the following:   these areas are open, subject to the permitting process below applied to students and non-students alike, to expression subject neither to any content restrictions nor to any prior restraints, save and except that, in the interest of avoiding security problems and simultaneous conflicting demonstrations, free speech activities in these traditional public fora requires two business days' prior notice, as outlined below, for all activities that are promoted in advance in any way, sponsored by a student organization, or expected to draw a crowd of more than 25 people.  Larger crowds  impact  the University's significant interest in controlling large gatherings that might disrupt classes, block building access, or create traffic hazards. Permission and thus permitting for free speech activities near intersections or during certain hours in close proximity to academic buildings at certain times of year might also be withheld due to a significant University interest in assuring safety or an environment conducive to study or teaching.
These public or open fora areas are available subject to this permitting requirement on a first-come, first-served basis, and University buildings, grounds or property may not be used by individuals or organizations not connected with the university, with the exception of the use of these traditional public or open fora areas for free expression as set forth above, and of course all forms of constitutionally unprotected speech, such as fighting words, libel, and obscenity are prohibited at all times. Students and registered student organizations and members of the public at large do not need prior approval concerning the content or distribution of such materials as leaflets and handbills in the public or traditional open fora. The director of the Center for Campus Life may impose restriction on the time, place and manner for distribution of printed material in the public forum areas only on the basis of safety or blocking of access to teaching, study, or learning.   The materials, however, may not conflict with applicable local, state, and federal laws but may be distributed by nonregistered student organizations or nonstudents, faculty or staff so long as fewer than 25 people are involved.
2.) Nonpublic and/or Limited Public Fora:       With regard to the entire remainder of the university, it is designated one of two types of fora…either a 1.) nonpublic or 2.) a limited public fora, which comprise all other buildings and places on campus, including residences, classrooms, offices, athletic and recreational and religious areas and structures as well as power and maintenance facilities.  The "nonpublic fora" are areas simply not compatible with any expressive activity at all other than what might be scheduled there at that time, and would include the private offices of the administrators, concert halls during events, the athletic or recreational facilities or college power plant or police station and the like.   The rule with regard to these nonpublic fora is simply that they are available only for the purpose intended – in a math class or a choir concert there is no room for unrelated expressive activity and restrictions on other activities are only reviewed for rationality. 
On the other hand, in limited public fora, the campus and facilities available subject to the following two priorities: first, as with the nonpublic fora, programs and classes of the college itself and its students. When these programs are in session they control exclusively.   Second, however, programs in these limited public fora may include expressive activity sponsored by IUPUI or its affiliates and members of the non-university public may be invited to attend, report, or my even be creating the program. The important thing to note is that limited public fora are limited to activities that IUPUI sees in its sole discretion as benefitting its entire university community and thus either registered student organizations or non-university organizations must follow the permitting process. The school may refuse to allow content in these limited public fora that the school feels does not benefit the school community, although the school may not discriminate between viewpoints.
Thus, these limited public fora parts of the campus and facilities are not available for use except as permitted by the process above.  Furthermore, on campus distribution of written material by students or others permitted to use the limited public fora, is permitted as long as it is within the bounds of the speech code outlined below, which goes beyond and prohibits more unwanted, destructive speech than the Constitutional limits in the public or open fora. In the public or open fora, the Constitution simply allows school rules to prohibit constitutionally unprotected speech, such as fighting words, libel, and obscenity. In the limited or private fora, the below speech code and permitting process controls.
Permits: As with the traditional public fora listed above, any requests for permission to engage in free expression activities outside the traditional public forum areas listed above also must be made at least two business days prior to the date of the requested activity.  As with requests for large gatherings in the public fora, limited fora requests are to be submitted to the Center for Campus Life, the director or designee of which will review the request only for non-content-based criteria and in these fora to make sure a student group is involved, and issue a response within two business days. 
Denials of requests will be accompanied by a written explanation of noncontent-based reasons for the denial, and denials may be appealed to the vice president for Student Affairs, or his designee, who will provide a written final decision on only non-content-based criteria no later than two business days after the appeal is filed.
Speech Code:  Students who engage in free expression on campus limited fora locations may be subject to discipline for activities that include, but are not limited to, physical, verbal, written or electronically transmitted threats, insults, epithets, ridicule or personal attacks or the categories of sexually harassing speech set forth in the Code of Student Conduct that … is personally directed at one or more specific individuals based on the individual's appearance, personal characteristics or group membership, including, but not limited to, race, color, religion, national origin, gender, age, disability, citizenship, veteran  status, sexual orientation, ideology, political view or political affiliation; and … may be in the sole discretion of the University sufficiently severe or pervasive to create an objectively hostile environment for that individual by interfering with or diminishing his or her ability to participate in, or benefit from, services, activities or privileges provided by the university.  However, an argument for or against the substance of any political, religious, philosophical, ideological or academic idea is not harassment, even if some listeners are offended by the argument or idea.
3.) Journalists-Both student and outside journalists may attend any event in any part of the free or traditional open fora listed above. These areas may not be closed by the university or student organizations to students, members of the public, or journalists during a permitted event, nor indeed during any hours when those portions of the university are open to anyone, except of course for narrow constitutional reasons like security and safety.   Conversely, in the limited public fora, press credentials must be granted per the permitting process outlined above and may be denied on any rational basis including disruption of a class, desire of a student club or organization or a majority of its members to remain open in its meetings only to its members or invited guests, safety, security, expense, or any other rational articulable reason. This code is to be enforced by the campus police and not by the students or their organizations or the faculty or staff.