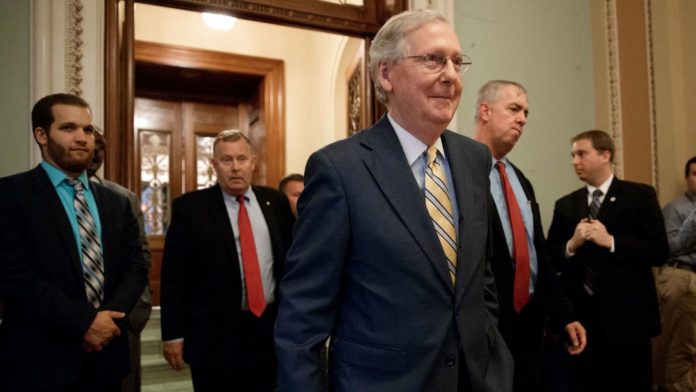 Republican senators voiced out their opposition to President Donald Trump's plan to impose new tariffs on Mexico, during a private lunch with White House and Department of Justice (DOJ) officials on Tuesday.
A person who was present at the lunch told CNN that a number of GOP senators stood and expressed their position that Trump's decision was unwise. They insisted that the President should brief them first before making any declaration regarding the matter.
Last week, Senate Republicans were blindsided when the President tweeted his threat to implement a 5 percent tariff on all U.S. imports from Mexico starting June 10 and will gradually increase until the illegal immigration stops.
On June 10th, the United States will impose a 5% Tariff on all goods coming into our Country from Mexico, until such time as illegal migrants coming through Mexico, and into our Country, STOP. The Tariff will gradually increase until the Illegal Immigration problem is remedied,..

— Donald J. Trump (@realDonaldTrump) May 30, 2019
In another tweet, Trump said Mexico has been an "abuser of the United States, taking but never giving…for decades." He added that tariffs will bring back jobs into the U.S.
….Coyotes and Illegal Immigrants, which they can do very easily, or our many companies and jobs that have been foolishly allowed to move South of the Border, will be brought back into the United States through taxation (Tariffs). America has had enough!

— Donald J. Trump (@realDonaldTrump) June 2, 2019
Republican senators warn of another disapproval resolution over tariffs
On Tuesday, Senate Majority Leader Mitch McConnell (R-KY) said, "There is not much support in my conference for tariffs — that's for sure."
Sen. Pat Toomey (R-PA), an outspoken critic of the President's trade policy said he was not satisfied by the explanation of the White House counsel's office or DOJ about the new tariffs on Mexico.
Last month, Toomey stated, "Tariffs, at best, can be a tool that might produce good results, but they are themselves dangerous and a painful tool that hits both the country against which the tariffs are being imposed and the country that is doing the imposition."
Sen. Ted Cruz (R-TX) commented that he strongly supports Trump's plan to secure the border. However, he said there is no reason for his constituents to suffer.
"I will yield to nobody in passion and seriousness and commitment to securing the border, but there's no reason for Texas farmers and ranchers and manufacturers and small businesses to pay the price of massive new taxes," said Sen. Cruz.
Sen. Ron Johnson (R- WI) warned that the Senate could pass a resolution to stop Trump's plan. According to him, "I think the administration has to be concerned about another vote of disapproval on another national emergency act, this time trying to implement tariffs. Tariffs are not real popular in the Republican conference… I'm not the only one saying it."
Before the lunch on Tuesday, Sen. John Thune (R-SD) believes a disapproval resolution will gains support among Republican senators.
Trump says it would be "foolish" for Republican senators to stop tariffs on Mexico
Meanwhile, during a news conference in London, hours before the Senate Republicans' lunch meeting, Trump reiterated his decision to impose the tariffs on Mexico next week.
"Mexico shouldn't allow millions of people to try and enter our country, and they could stop it very quickly and I think they will, And if they won't, we're going to put tariffs on. And every month those tariffs go from 5 percent to 10 percent to 15 percent to 20 and then to 25 percent," he said.
He also expressed confidence that the Republican senators will not vote on a disapproval resolution to block his plan. He said, "Oh, I don't think they will do that. I think if they did it's foolish. There's nothing more important than borders. I've had tremendous Republican support."