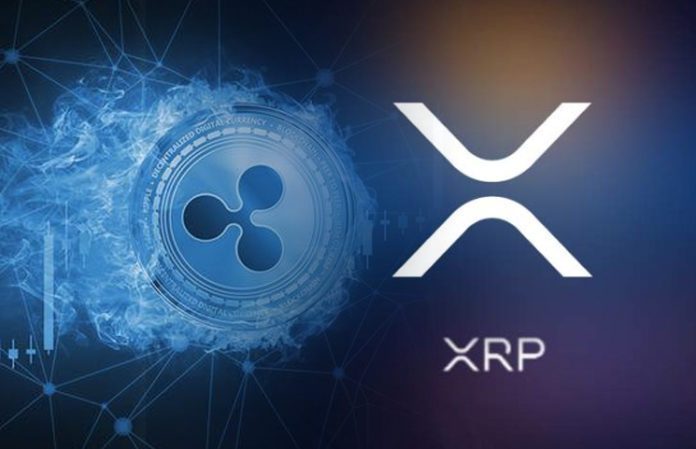 Ripple (XRP) suffered a steep decline, losing over one-third of its value after the Securities and Exchange Commission (SEC) hit the cryptocurrency firm and its two top executives with a lawsuit.
On Wednesday morning, XRP the price is trading around $0.31 each, down by 36%, according to data from Coindesk at the time of this writing.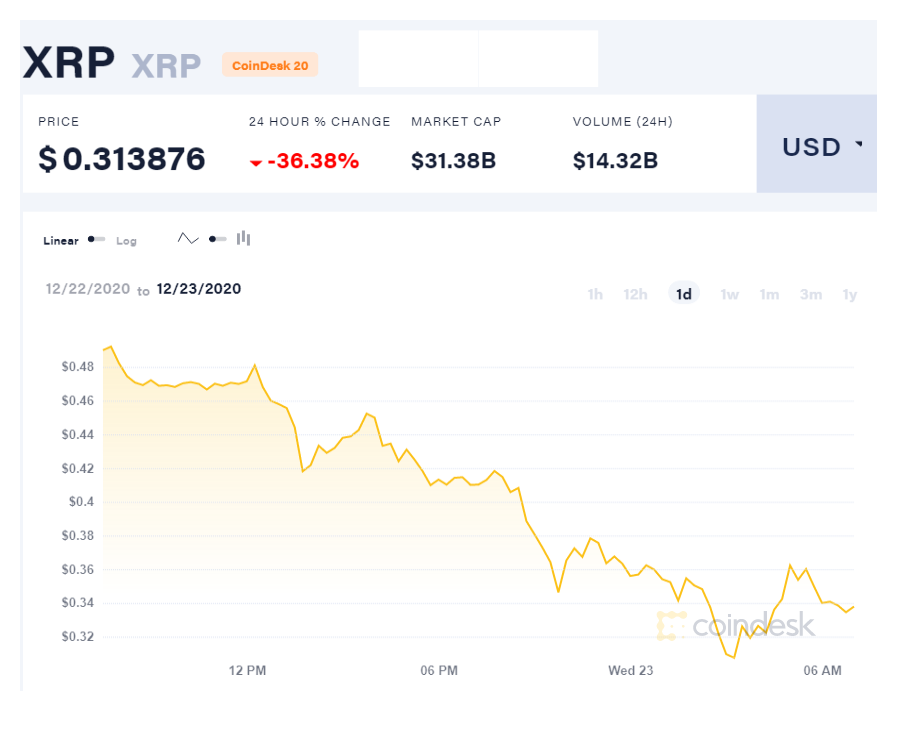 On Tuesday, The SEC formally sued Ripple Labs, its co-founder Christian Larsen, and CEO Bradley Garlinghouse over the cryptocurrency company's alleged $1.38 billion unregistered initial coin offering (ICO). XRP price dropped 17% on the news.
Ripple and its executives were expecting a complaint after receiving a Wells Notice from the SEC. On Monday, the blockchain company published its response to the Wells Notice, in which it rejected the findings of the Commission that its digital asset, XRP is an investment contract.
Ripple vowed to challenge the SEC charges and prove that XRP is similar to Bitcoin and Ethereum—it is decentralized and independent of the blockchain company. Garlinghouse tweeted that they are "ready to fight and win."
The SEC – out of step with other G20 countries & the rest of the US govt – should not be able to cherry-pick what innovation looks like (especially when their decision directly benefits China). Make no mistake, we are ready to fight and win – this battle is just beginning. (3/3)

— Brad Garlinghouse (@bgarlinghouse) December 22, 2020
 Details of the SEC charges against Ripple, Larsen, and Garlinghouse
The SEC alleged that Ripple violated federal securities laws for failing to register its public offering of XRP. The Commission is treating the cryptocurrency like a stock or share in a company.
Ripple, Larsen, and Garlinghouse allegedly raised more than $1.3 billion funds from investors in the U.S. and overseas by selling XRP through unregistered security offerings starting in 2013. The cryptocurrency company also allegedly distributed billions of XRP in exchange for non-cash consideration, such as labor and market-making services.
Additionally, the SEC alleged that Larsen and Garlinghouse also personally sold unregistered totaling approximately $600 million.
"We allege that Ripple, Larsen, and Garlinghouse failed to register their ongoing offer and sale of billions of XRP to retail investors, which deprived potential purchasers of adequate disclosures about XRP and Ripple's business and other important long-standing protections that are fundamental to our robust public market system," according to Stephanie Avakian, Director of the Enforcement Division of the SEC.
She also stated, "Issuers seeking the benefits of a public offering, including access to retail investors, broad distribution, and a secondary trading market, must comply with the federal securities laws that require registration of offerings unless an exemption from registration applies."
—————————————-
Have a story you want USA Herald to cover? Submit a tip here and if we think it's newsworthy, we'll follow up on it.
Want to contribute a story? We also accept article submissions – check out our writer's guidelines here.