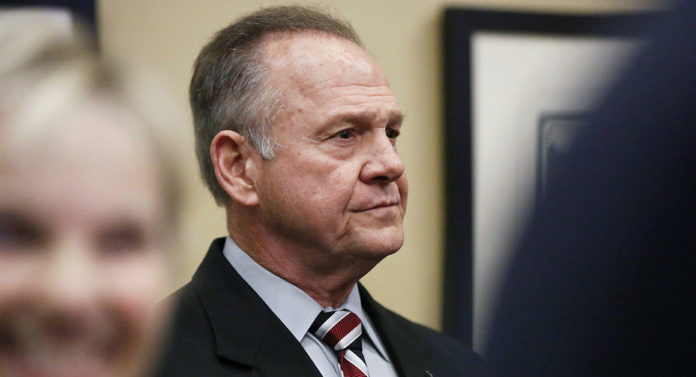 If you haven't heard, Alabama Senate candidate Roy Moore has been accused of sexual misconduct by multiple women. Moore was in his 30s at the time of the alleged incidents. This first accuser is one of five women to come forward. They allege that Moore pursued relationships with them when they were under 18.
Moore's Allegations Cause Panic in GOP Leadership
Senate Majority Leader Mitch McConnell called on Moore to exit the race, and that he believes the accusers. The Washington Post first broke the story, which sent Capitol Hill into a panic. McConnell has drawn a tough line with Moore.
House Speak Paul Ryan has also called for Moore to exit the Senate race. Ryan said the allegations "are credible," and that Moore should "step aside."
Many GOP leaders are scrambling and want Moore off the ballot in Alabama. This might not be possible, as some absentee ballots have already been mailed. Besides any legal constraints that may arise, Moore doesn't owe anything to Washington. Furthermore, President Trump actually backed his opponent in the Republican primary.
The Moore campaign issued statement saying "national liberal organizations know their chosen candidate Doug Jones is in a death spiral, and this is their last ditch Hail Mary."
Is the GOP Stuck With More?
They might be. The path forward will hinge on how Moore handles this and what, if anything else, is yet to come to light.
Senate Majority Whip John Cornyn said "If it is true, I don't think his candidacy is sustainable." "But we believe in a presumption of innocence until proven guilty. And so I think it's important for the facts to come out."
As of now, Moore is still on the ballot. The Senate has options, though, if Moore gets elected. They could deny him a seat, which would go against the will of the Alabama voters who voted for him anyway. The Senate could also vote to expel him, on grounds that he did not meet ethical standards.
Political Ramifications
Expelling Moore would give McConnell and the GOP another opportunity to run a better candidate. Moore didn't even have Trump's support during the primary election for the Senate seat.
Moore represents the effort by Steve Bannon, the former Trump advisor, to unseat establishment Republicans, against Mitch McConnell's will. If Moore exits the race, it's big blow to Bannon's efforts.
In the meantime, the GOP could push a write-in candidate or run Moore against Doug Jones, the Democratic candidate. A loss by Moore to Jones wold certainly solve the problem but would leave McConnell with one less Republican seat in the Senate.