The latest attempt by Tallahassee legislators to change the way Florida's state colleges are run has cleared a major hurdle on its way to the Senate floor.
The bill, SB 540, cleared the major Senate Education Committee in an 8-2 vote.
A major point of contention among college presidents throughout the state has been the bill's setting of stricter performance standards for students. The bill will also cap degree-tracts to a maximum of four years.
Addressing the opposition, bill sponsor Sen. Dorothy Hukill, R-Port Orange, said that stricter standards and speedy graduations are "what this program is all about."
"[It's] not only getting students into community college," Hukill said, "but moving them through the community college, getting them into the next level and actually graduating them."
Florida colleges have performed relatively well compared to colleges in other states, even doing well enough to earn several national accolades. "We can do a heck of a lot better," Hukill said. Backing up her remarks, the chairwoman of the education panel cited data which showed that a low number (17.7 percent) of students enrolled in two-year associate degree programs several years ago managed to attain baccalaureate degrees within six years.
Of that same pool, 26 percent were still enrolled in associate degree programs after six years with associate degree earners coming in at half that number.
That leaves 43 percent of students who never managed to get a degree before leaving the college system.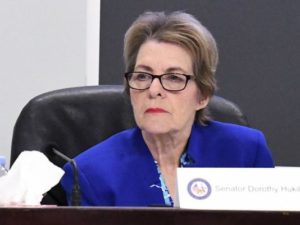 "We need to do better than that," Hukill echoed.
This past legislative session, a similar bill passed through the Florida House and Senate but was defeated by Gov. Scott's veto. His primary objection was that creating a four-year cap on degrees awarded by a college would be "unnecessarily increasing red tape".
A key function of the bill would be to create a 13-member State Board of Community Colleges, similar to the Universities' Board of Governors, to oversee the entire college system and its over $2 billion budget.
Currently, Florida's college system is under the purview of the state Board of Education, which also oversees K-12 education.
Another primary function of the bill would be to re-structure the college system to be focused on providing associate degrees rather than baccalaureate degrees. To that end, Florida colleges will be barred from accepting greater than 20 percent of admissions for students seeking four-year degrees. In addition, the entire college will be limited to having only 10 percent of students at the institution seeking four-year degrees.
The president of Northwest Florida State College, Dwight Stephenson, argued that "the potential cap could very easily prevent us from responding to a potential critical future need." He was referring to an influx of military members who have utilized the state college system to obtain four-year degrees, as well as middle school teachers seeking accreditation.
The next step for the bill is to be heard by the Senate Higher Education Appropriations Subcommittee.