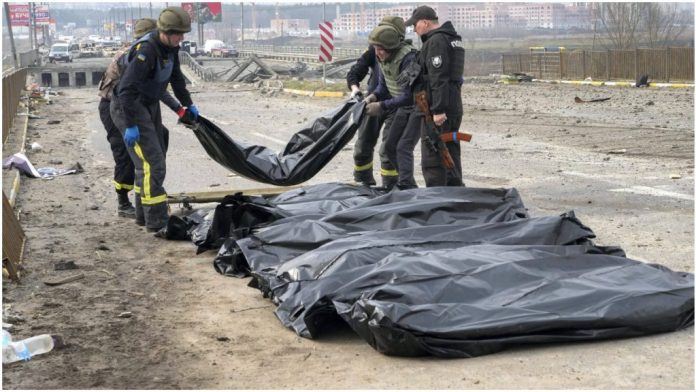 Early in April when the Russian troops started moving from northern Ukraine to the southern Donbas region evidence of widespread war crimes was uncovered. Bodies are evidence that is impossible to deny. And Putin's war on civilians looks a lot like the devastation Hitler wrought in World War II.
The capital city of Kyiv experienced heavy bombing on civilian targets. Hospitals, apartments, and train stations were destroyed. 
 In northern Kharkiv, Russian shelling has created a cityscape of twisted and burned-out high-rises, where glass and shrapnel cover the ground. And destroyed vehicles and bodies litter the streets.
Terrifying videos have surfaced from Kyiv's suburb of Bucha, where civilians were shot by Russian troops.

We still know only about a fraction of the war crimes that Russia has already committed. The scope of Russian brutality is yet to be seen. pic.twitter.com/JVCcPUFpSD

— Oleksiy Sorokin (@mrsorokaa) April 2, 2022
Mass graves 
Bucha authorities found a mass grave. And the victims buried there included women, as well as a 14-year-old boy. 
"In Bucha, we have already buried 280 people in mass graves," according to Mayor Anatoly Fedoruk. The destroyed town's streets were littered with dozens of corpses. "All these people were shot, killed, in the back of the head," Fedoruk said.
CNN reported that Andrii Nebytov, the head of police for Kyiv region, claims that they are examining 1,084 bodies. The bodies were found in the Kyiv suburbs including Bucha. They are looking for signs of torture. And sadly, they are finding it.
 "These are civilians who had nothing to do with territorial defense or other military formations," Nebytov said. "The vast majority—between 50 percent and 75 percent—are people killed by small arms, either a machine gun or a sniper rifle, depending on the location."
 Ukrainian officials have also reported evidence of mass graves in Mariupol. Thousands of people have been buried in what was once the bustling port city of Mariupol. 
Mayor Vadym Boichenko of Mariupol, puts the latest estimate at around 21,000 civilian residents murdered in the city since the start of the Russian invasion. And Pavlo Kyrlenko, head of Donetsk regional military administration says the number of deaths in Mariupol could be as high as 22,000.
War on civilians in Mariupol
The road to the Azovstal steel and iron plant is littered with the dead bodies of civilians.  
The Azovstal plant is where the last defenders of Mariupol are making their last stand. Up to 2,500 people are being bombed and starved. Russia refuses to let the Red Cross anywhere near the city. And will not allow the wounded medical treatment. 
The Russian military sent a message days ago telling the defenders of Mariupol to" Surrender or die." But given Putin's behavior so far, the Ukrainians expect to be killed, anyway. So, surrender is not an option.
Amid shrinking expectations that they can survive, their captors have sealed the complex to make certain that no one escapes.
The ruins of the old steel factory are now being called the Alamo of Ukraine.
Evidence of widespread rape and sexual mutilation is surfacing. One young victim, who is just 15 is one of the survivors telling their stories. Several female bodies in mass graves show evidence of horrific sex crimes, as well.
The United Nations Human Rights Office describes the Russian atrocities and human rights violations in Ukraine as a "horror story of violations against civilians" that continues.
It is difficult to believe that Russia could really be claiming a victory for what looks more like an extermination. It is easy to kill unarmed civilians. And it is difficult to justify to the world. Because this is a war that is being well-documented online. And a war on civilians is an atrocity that no civilized nation could condone.