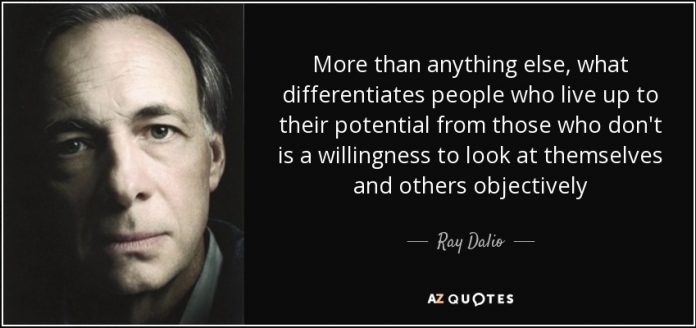 Adam Grant, a Wharton psychology professor, and his partner Ray Dalio, the famed billionaire investor developed PrinciplesYou. Dalio is also the founder of Bridgewater Associates, an asset management firm.
The PrinciplesYou app is styled as the most accurate self-assessment toolkit in existence. And was launched at the virtual Collision Conference where Dalio participated in two talks on how organizations can reach their full potential.
It is being offered free to anyone who wants to use it. PrinciplesYou
The partners claim that this tool is unique. It can be used as a journey of self-discovery. It also allows a better understanding of relationships with employees, teammates, and friends. And of course, it helps to successfully navigate relationships with a partner or spouse. 
PrinciplesYou develops people skills
Dalio fine-tuned his interest in self-assessment while he was head of Bridgewater. He wanted to improve his own people skills to assure the firm's outcomes. And believes it was an important part of the phenomenal success at the hedge fund.
During that time Dalio authored the book Principle. The book explained his deep interest in personality assessment tools for himself and his employees.
His first step in creating a layered testing mechanism began with the Myers-Briggs Type Indicator. First, he was surprised at the uncanny accuracy. And it soon became apparent how helpful it was to use these type metrics.  He layered on six different self-assessment tools in order to get highly enhanced results.
PrinciplesYou was designed to help enlighten and inform the user. It is free, interesting and fun.
Discover if you are a "shaper"
How do you find out who has the right personality type to hire for your company? Or even find out who is right to run a company? Dalio, who was already sold on personality assessments wanted to get more data. After all he had been researching assessments for years. And he had an inspiration.
Why not get some of the best and brightest to take the ultimate six-layer testing tool he had created?
Elon Musk, Bill Gates, and Jack Dorsey along with other world influencers took the PrinciplesYou tests to allow their results to be analyzed. And it turns out they are all trailblazers and shapers.
Dalio says that uses the term "shaper" to refer to the set of key personality traits that self-made wealthy people share. 
"A shaper is someone who comes up with unique and valuable visions and builds them out beautifully, typically over the doubts and opposition of others," Dalio writes.
The self-made millionaire or in some cases billionaire has a specific personality type and entrepreneurialism that is likely to create success and wealth. And you can find out if you share the personality traits of self-made millionaires and billionaires.