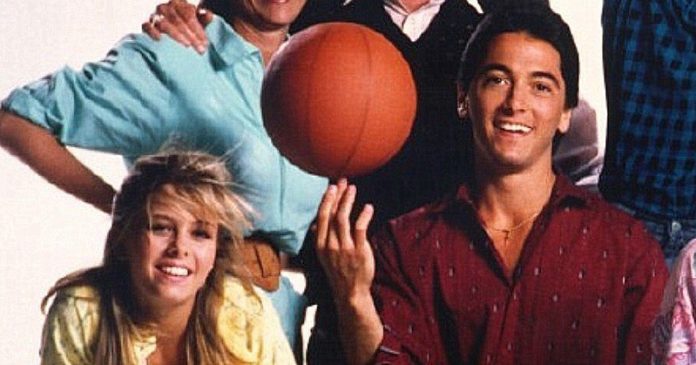 Scott Baio came out, guns blazing, on Saturday to dispute allegations that he engaged in sexual activity with Nicole Eggert when she was a minor.
Eggert, who starred with Baio on the 1980's hit television show "Charles In Charge," has made accusations recently that the Baio had sex with her when she was 17-years-old.
In a series of tweets on Saturday Eggert made the stunning accusations.
"Ask @scottbaio what happened in his garage at his house when I was a minor. Creep," she wrote to a Twitter user who asked about Baio's support for President Donald Trump.
She called herself a "molested child" and asked another Twitter user, "What is ur explanation for him fingering me at age 14?"
According to Baio, Eggert has shopped the story to Dr. Oz and TMZ but, when confronted with evidence from Baio those outlets have chosen not to move forward with the story, Baio said.
In his Facebook Live video on Saturday, Baio used Eggert's own words against her.
"It was way after ("Charles In Charge" was off the air)," she told radio host Nic Richie in 2013.
"I was 17, but it was years later OK. I was 17, I started dating this other guy and I did not want to be a virgin. I was embarrassed that I was a virgin. I needed someone to, like, pop the cherry and make me a veteran," she said, adding that she initiated the sexual encounter.
The issue with that statement, as Baio pointed out, is that Eggert said the encounter happened "years after" the show "Charles In Charge" was cancelled.
The show stopped airing on November 10, 1990 and one of the last shows Baio showed a script to was May 18,1990. Eggert's birthday is January 13, 1972, which would make her 18 years old before the show went off the air.
According to Eggert's own words the two did not have sex until years after that.
The math does not make sense for Eggert's claim that she was 17-years-old at the time.
And that is the danger with the #MeToo movement and the idea that every woman has to be believed at their word.
Humans, including women, can make mistakes. Not everyone is in the position Baio is to have both the fortitude to fight back in the witch hunt climate of 2018, and the evidence to prove his innocence.
"The real problem with this is that people with legitimate claims aren't taken seriously, and that's too bad," Baio said to conclude his video.
Emails from Prod at @DrOz & my leagal team. #NicoleEggert pic.twitter.com/OBuGTQPP3G

— Scott Baio (@ScottBaio) January 28, 2018
Nicole Eggert attempting to go on @DrOz again my legal team provided proof of her false claims. pic.twitter.com/2Bj6MqOxxF

— Scott Baio (@ScottBaio) January 28, 2018
Legal letters sent to both Alex and Nicole. pic.twitter.com/0d5YXPPEFI

— Scott Baio (@ScottBaio) January 28, 2018
Yahoo 2012 interview Nicole Eggert did. pic.twitter.com/HdP6XjSAG1

— Scott Baio (@ScottBaio) January 28, 2018
Click this link to watch the video in its entirety.
Author's note: For the purpose of full disclosure I know both Baio and Eggert and have spoken with both on more than one occasion, but not about this case.