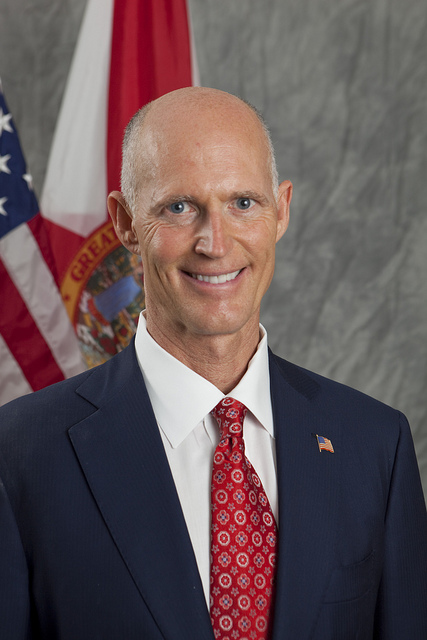 By JIM TURNER
THE NEWS SERVICE OF FLORIDA
©2017 The News Service of Florida. All rights reserved. Posting or forwarding this material without permission is prohibited. You can view the Terms of Use on our website.
THE CAPITAL, TALLAHASSEE, March 1, 2017……… Following an extended weekend in Washington, D.C., Gov. Rick Scott on Wednesday resumed pushing back against Florida House members who have opposed the state's business-recruitment and tourism-marketing agencies.
Appearing at a "roundtable" discussion in a crowded room at Link Staffing Services in Orange Park, Scott maintained his focus on securing $76 million for tourism-marketer Visit Florida and $85 million for Enterprise Florida as a way to continue creating jobs.
Scott didn't go into a new House decision to split the issues, with proposals to revamp Visit Florida now in one bill (HB 9) and the potential elimination of Enterprise Florida and several other programs remaining in the original bill (HB 7005).
Instead, Scott noted that his continued fight with House Speaker Richard Corcoran, R-Land O' Lakes, over the funding is being watched nationally.
"They all know what we're doing," said Scott, who attended National Governors Association and Republican Governors Association events over the weekend and President Donald Trump's speech to Congress on Tuesday. "Last night, one of the individuals that sat next to me was the speaker of the House of another state. And he knew what was going on here, because they're excited. They know if we don't compete, they're going to get jobs."
As he's done at prior stops, Scott called out local state representatives who have backed Corcoran in the battle about the agencies.
In the Orange Park appearance, it was Rep. Paul Renner, a Palm Coast Republican who is sponsoring the bills, and Rep. Travis Cummings, an Orange Park Republican who is part of Corcoran's leadership team. Renner does not represent Orange Park, but his district includes part of nearby St. Johns County.
"We have got to let our House members and our Senate members know how we think," Scott said.
Corcoran has repeatedly called business-incentive funding "corporate welfare" and questioned the effectiveness of how the state has spent its marketing dollars. He has focused, in part, on a $1 million Visit Florida contract with Miami hip-hop artist Armando Christian Perez, better known as Pitbull, and ongoing sponsorship deals with London-based Fulham Football Club and an IMSA racing team.
While the House initially proposed eliminating Visit Florida and Enterprise Florida, its handling of Visit Florida has gradually changed. When HB 7005 was before the House Appropriations Committee, a change was made to propose a number of reforms at Visit Florida while allowing it get as much as $25 million in funding.
The House on Monday then detached Visit Florida into a stand-alone bill, which calls for reforms but defers the funding issue to budget negotiations between the House and Senate. The annual legislative session starts Tuesday, with budget negotiations likely to take place in April.
This week's change was made after several members of the Appropriations Committee, from both parties, expressed concerns about lumping the futures of Enterprise Florida and Visit Florida in the same bill.
Both bills are scheduled to be considered Monday by the House Rules & Policy Committee.
Enterprise Florida sent an email to members this week encouraging them to attend a "meet your legislators" event in the Capitol prior to the Rules & Policy meeting. Scott also is planning to keep the pressure on House members, appearing Thursday in Hialeah.
–END–
3/1/2017
© 2017 The News Service of Florida. All rights reserved. Posting or forwarding this material without permission is prohibited. You can view the Terms of Use on our website.
Independent and Indispensable
http://www.newsserviceflorida.com